Top-8 Best Day Traders In The World: What's The Key To Their Success?
How to become a thriving trader? You can learn from your mistakes, or you can revert to the history which knows many successful day traders know. They not only earned millions of dollars within short time frames, but also shared the knowledge with the audience.
How to become a thriving trader?
You can learn from your mistakes, or you can revert to the history which knows many successful day traders know. They not only earned millions of dollars within short time frames, but also shared the knowledge with the audience.
Who are the best day traders in the world, and how did they manage to make millions? This guide unravels a mystery and shows the stories of successful daytrading. You will find out who are the richest traders, which investing tips they give, and the books they have written.
Most likely, you already know that there are not so many successful day traders – the majority of newcomers leave this activity within the first year of trading. The winner/loser ratio is pretty high, that's why many people are so skeptical towards trading. That leads us to the first conclusion: the most successful day traders never give up. The majority of people give up after losing some certain amount of money while potential winners continue.
When you'll be reading the stories of famous day traders, you will see they have a few features in common:
Self-discipline. Trading requires a lot of attention, devotion, and a mass of time spent.
Risk control. top stock traders understand the risk/reward ratio, they know when risks can be justified, and when they're doomed.
Courage. The most outstanding traders have the guts not to follow the majority and make their own decisions based on their own analysis.
Thoughtfulness. It's important to see and understand the market tendencies, and how they are formed.
No emotions. Panic-selling is only one of downsides faced by emotional traders. They can get upset because of every little thing like unprofitable order or market fluctuations. Stock trading is not a place for sentiments – you have to stay cold-minded.
Patience. Since the stock market is not easily predictable, it may seem there are no lucky entrance points. Top day traders wait for an ideal moment, even if it takes hours, days, or weeks.
Dedication. Trading should be your hobby, which means time and investments in knowledge. Don't limit yourself by reading books – develop your skills by learning strategies, watching YouTube videos and researching tutorials.
Thinking that day trading is purely passive income is a big mistake! Practice shows that famous stock brokers spend years on learning the basics of trading, and their education is lifelong. Stock market is too unstable and ever-changing, so you won't go long using old knowledge only.
1. Ross Cameron: The Best Forex Day Trader In The world?

Who is the richest day trader today? Probably, Ross Cameron. He was born and raised in Vermont (USA). He graduated from Vermont College with a bachelor of arts degree. Even at school, he was fond of architecture and professionally mastered the production of drawing documentation in AutoCAD. In the mid-2000s, Ross lived in Manhattan and worked for an architecture and design firm. Seeing that in the late 2000s, his investments lost value, Ross thought that he could achieve better results if he actively managed his portfolio. He returned to Vermont and began day trading in stocks under $20 with low capitalization.
In 2012, Ross founded the Day Trade Warrior resource – where traders can learn and draw ideas. He wanted to create a community in which traders would be surrounded by other professionals. In 2014, he began conducting training courses with a focus on risk management, stock selection, and maximum entry security. Now Ross continues to train and trade himself. In 2016, he reportedly made $222,244.91!
So, what are his recommendations? Ross Cameron shares his thoughts on why now all newcomers become successful traders:
"After several years of trading on the market and working with traders, I realized that there are two main reasons for failure. The first reason is simple – lack of preparation. Thousands of traders deposit real money into their trading account and, having no experience, immediately begin to trade. Any attempt to trade without experience in the market, along with millionaire traders and managers of multi-billion-dollar hedge funds, is a sure way to disaster. The trader should focus on the acquisition of knowledge and skills, that is, trade at least one month in simulation mode. He must make sure that he can make a profit, and only after that – start trading for real money.The second main reason for failure is the trader's inability to manage risks. Risk is the central fundamental concept that a trader should understand. Each transaction involves an analysis of risk and profit potential. All successful traders have one standard indicator. The average size of their profitable trades is greater than the average size of expensive ones, and they are more often right than wrong. For beginning traders, as a rule, losing trades are larger than profitable ones, and trading accuracy is rather low. Such statistics lead to the fact that they cannot make a profit until they make changes to their trade. A story with good statistics ensuring the profitability of trade can be obtained as a result of the implementation of a clearly formulated trading strategy."
2. What Is Sasha Evdakov Net Worth, And How He Made It?

Sasha Evdakov is the author of Tradersfly, and since 2013, he has written ten books, including "Start Trading Stocks: A Beginner's Guide to Trading & Investing on the Stock Market," and "100 Stock Trading Tips: The Mindsets You Must Know to Be a Profitable Trader!".
While a significant number of his books are focused on stock exchanging, yet huge numbers of the exercises likewise apply to different instruments. Through Tradersfly, Evdakov has discharged a wide assortment of recordings on YouTube, which talk about an assortment of themes identified with exchanging. Today, he has over 125,000 followers.
Books on day trading and investing by Sasha Evdakov
As an instructive business person, he is brilliant at educating, and his style is exceptionally straightforward and consistent. Actually, Evdakov says that the 'genuine cash' is in swing exchanging, and his feeling is increasingly outfitted towards it. Although his net worth is not stated in any official source, it's clear that he's a big trader with multi-million profits.
All things considered, Evdakov likewise says that he does day exchange from time to time when the market calls for it. He will now and then go through months/day exchanging and afterward return to swing exchanging.
What he implies by this is the point at which the conditions are directly in the market for day exchanging as opposed to swinging exchanging. This features the significance of both being a swing dealer and an informal investor or possibly seeing how the two work.
Sasha Evdakov gives the following recommendations to become a famous person in the stock market:
Depending upon the market circumstance, swing exchanging techniques might be different.
Some of the best day traders blog and post useful videos – they not only write books.
Young stock traders should try swing trading at least once.
When you choose between day trading or swing trading, it should depend on your lifestyle.
4. The Secret of Rayner Teo Net Worth

One of the most famous stock traders, Rayner Teo runs a YouTube channel with over 174,000 subscribers and TradingwithRayner website that unites over 30,000 traders. He teaches peers how to prevent losing money, what are their typical mistakes, and which solutions are applicable in the current market trends.
Here's how he describes his work:
"At the moment, I am a swing positional trader. I try to grasp individual market movements that occur on a four-hour or daily time frame. A positional trend trader is a trader who follows the trend, and then tries to hold his position until its very end! You know, as the saying goes, the trend is our friend, and you need to follow him until it ends".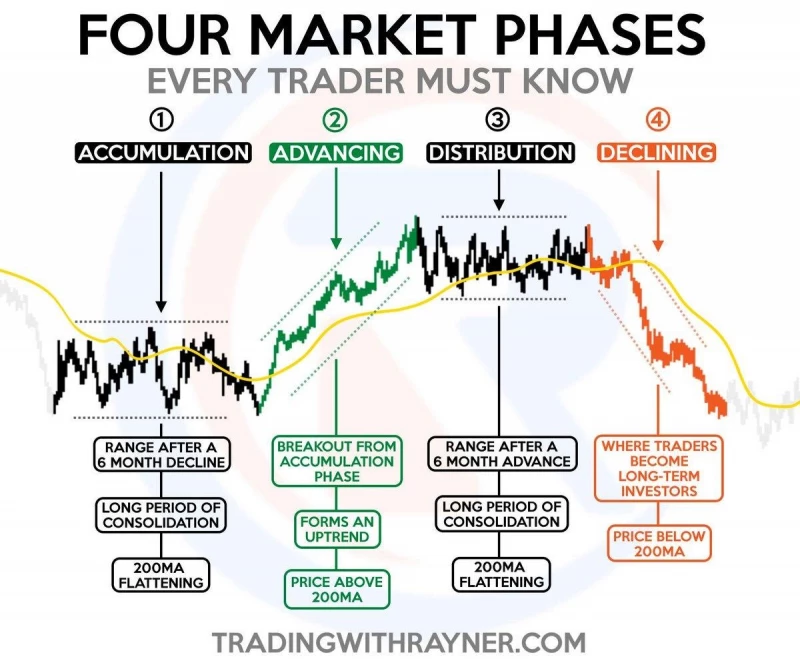 Four market phases that each successful trader must know
What are his day trading secrets?
Rayner states that trend is a pretty general concept. There can be different trends in the same market in different timeframes. "Personally, I prefer to trade on the daily charts. If the price goes in my direction, I can hold my position for months and even years. And if it turns out that I was mistaken, then I leave the market within a matter of hours or days. That's what my trading strategy looks like in general!" – he says.
5. What Made Steven A. Cohen One Of The Most Famous Day Traders?

Steven Cohen was born in 1957, Great Neck, New York. In November 2011, he took the 35th place in Forbes' list of 400 Richest People in America. Currently, his fortune is estimated at $ 8.3 billion! Why is he one of the most famous traders today?
He is well-known for having supernatural abilities to make money under any market conditions. BusinessWeek magazine named Cohen "the most influential trader on Wall Street." He is the founder of SAC Capital Partners.
He studied at the University of Pennsylvania, studied economics, played poker, and became interested in the stock market. In 1978, Cohen got a job at Gruntal, where on the first day, he earned $ 8,000 for the company. Being a top daytrader, Cohen made about $100,000 a day for the organization. By 1984, he managed a portfolio of $75 million and a group of six traders. On his account, there were transactions that helped Gruntal to cover losses incurred due to the operations of other traders.
In 1992, after leaving Gruntal, Cohen opened the SAC Capital Partners hedge fund, investing $20 million of his own funds there (today, the company manages more than $12 billion). At that time, the hedge fund industry was still relatively small, and the bull market of the 1990s was just warming up.
Steven Cohen's average monthly returns
SAC Capital Partners staff now counts more than 600 people. Nevertheless, Cohen still makes many deals himself. He starts his working day at 8 AM and tracks market charts on his monitors giving ideas to employees. About 15% of the company's profit is obtained from operations performed by him!
6. Mark Minervini: Net Worth Is Nothing, I Just Want To Be The Best Trader

What makes Mark Minervini one of the best traders in the world? In his first year, he made 128% profit and reached 220% in five years – all that with a few thousand dollars in his pocket. Minervini is the author of some useful books, for example, "Think and Trade Like a Champion: The Secrets, Rules & Blunt Truths of a Stock Market Wizard".
Minervini says that success day trading is not about looking for the lowest point – it's about entering trends instead.
After spending almost ten years in endless analytical work and accumulating a wealth of trading experience, Mark has developed his own clear methodology. In the mid-1994s, relying on the loyalty of the chosen strategy, whose merits were clearly demonstrated by the steadily growing profits, Minervini combined the existing disparate accounts into one – the one about which such an impressive report would later be drawn up (up to this point, Minervini worked on several accounts that helped, in particular, to compare the results of different approaches to investment). Today, five and a half years after opening an account, his profit can be called amazing without exaggeration.
Oddly enough, Minervini managed to significantly increase capital, keeping risk at the lowest level: the fall was observed in just one quarter and amounted to only 1%.
In 2000, Minervini became the founder of his own hedge fund – Quantech Fund LP. At the same time, he is the chairman of Quantech Research Group, an analytical company that carries out stock picking in the interests of institutional clients in accordance with the methodology developed by Minervini. During the day, Minervini manages the capital of investors, at night – sits at a computer screen, studying the characteristics of companies and shares.
Minervini is definitely one of the best stock traders to learn from, and here's what he recommends:
Checking trends is more important than buying at the lowest price.
Workaround huge companies;
When the market situation is complicated, you should lower the risks and profit expectations.
7. George Soros' Mysterious Strategy

The personality of George Soros has already become a legend among trading fans. This is undoubtedly the most successful top trader. He is known as one of the best traders in history, nicknamed "the man who bankrupted the Bank of England" with one of the successful day traders stories: a single transaction of $ 1,000,000,000.
After graduating from the London School of Economics and Political Science, Soros began his professional career at Quantum Fund, founded in 1969, where he made several lucrative operations. As a result, the company's profit matched the annual income that McDonald's recorded in 1996. However, the most lucrative deals of Soros' career have been with the pound sterling. In 1992, Soros became one the best day trader, making a net profit of $200 million in just one month.
Soros has written several books, including "The Alchemy of Finance," where he explains his theory of reflexivity, which he says helped him succeed in trading.
George Soros applies the theory of reflexivity to trading`
Yet, the full truth about the reason of George Soros' financial success is not revealed in his books because it does not contain any theory about the functioning of the stock market. In fact, his investment philosophy is very different from the theory of reflexivity. The best way to uncover some of his secrets is to read the New Money Monsters interview with John Train, in which he Soros makes the following statements:
"My approach works not because I make the right predictions, but because it allows me to correct the wrong predictions."
This is an interesting point to keep in mind if you want to become a top trader. Several Forex traders who have worked with Soros have published some of their investment strategies. One of them is James Marquez, a former chief investment officer:
"Soros's strategy may seem strange, wrong, and it goes against the rules. He sold cheaply and bought expensively, which can only be understood in connection with his stated mission: to be able to return and recoup another day. "
Soros' other investment director, Alan Raphael, said that Soros never argues, and if he makes a mistake, he admits it and ponders it.
Below are top trading tips that can serve as a basis for developing a strategy in accordance with Soros principles:
Set aside hypotheses and theories that provide a complete understanding of how markets function. Reaping the benefits depends largely on knowing the exit points and the correct sizing of transactions.
Define a strategy that makes sense instead of making multiple decisions spontaneously.
Pay more attention to exit points and order sizes, even if they are tempting.
It doesn't matter if your strategy is backfiring: you must view failure as a force and limit losses so that you don't wake up bankrupt one day.
8. Bill Lipschutz: Trade Like Crazy, Or Leave

Lipschutz began trading the stock market while studying at Cornell University, New York. He received an inheritance of $ 12,000 in shares and invested this money in over 100 shares. These investments helped him find a more profitable way to use the funds received.
During this time, Lipschutz studied financial markets at the Cornell library and began trading. He managed to turn $12,000 into $250,000. However, his success was short-lived, as one perfect mistake cost him almost all the money he earned. Lipschutz considered this mistake a valuable experience that helped him in the future.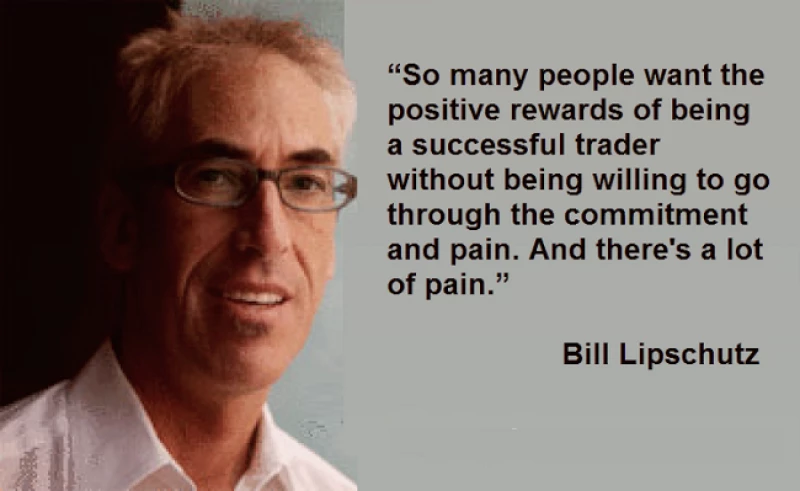 Successful day trading is impossible without pain
Just before finishing his studies at Cornell, Bill Lipschutz started trading again and gradually increased his account size. Then he decided to devote himself entirely to the career of a trader. In 1984 he joined Salomon Brothers and joined the newly formed Forex division. A year later, he made the bank a profit of $300 million.
In 1990, Lipschutz became president of the North Tower Group, a subsidiary of Merrill Lynch. He then founded Rowayton Capital Management, which morphed into Hathersage Capital Management in 1995. This fund specializes in trading the currencies of the Big Ten (G10) countries and is still active at the time of this writing.
Bill has an unusual motto: "Trade like crazy or stay the same." Bill gets enormous pleasure from making money at an insane speed. Yet, it comes with hard work. A trader, as you know, can watch all the markets simultaneously with a monitor mounted next to his bed so that he could analyze everything around the clock. After all, to make $ 300 million in just one year, a person needs to work really hard.
Bill Lipschutz has created an effective trading and risk management strategy based on in-depth analysis. Its main principles are as follows:
Time is the cause of risk. Professional players are able to keep an eye on several currency pair trading operations.
You don't have to come rich at Forex. Every trader learns from his mistakes, and Bill Lipschutz is no exception. Once he lost 250,000 borrowed in 5 days, but that did not stop him.
Be obsessed with deals. Bill Lipschutz believes that most traders fail to operate profitably in the foreign exchange market, not because they lack the ability, skills, or experience, but because they lack a passion for trading. Money motivation is not correct; making a profit or loss is a 'side effect of gambling' on the currency exchange.
Feel the pain of loss. Every trader has periods when he only bears losses, but the main thing is not to back down. At such moments, a trader begins to treat money more carefully, to calculate and analyze actions.
Divide the capital. The golden rule of the eminent trader is never to concentrate wealth in one transaction. Following this rule reduces the risks of burnout to the lowest possible level.
Do not leave a position open with incomprehensible market movements. The position should be increased when it is possible with a high degree of probability to predict the dynamics of economic indicators and price behavior.
Get it done on time. The principle of any business activity – the more you work, the more is your profit. But when trading on the foreign exchange market, the situation is the opposite. You can't make an open position more profitable by making an effort. The trader must invest in the preparation process – the study of information for analysis.
Bottom Line

So, what makes the best stock traders? They are devoted and obsessed with what they do and ever give up. The stories of these overwhelmingly successful stock traders prove that there's no victory without a loss (or many losses), but mistakes drive development.
Can you repeat their achievements? Everything is possible with due dedication. There's no need to have millions of dollars in your bank account. Start with a demo account, research the market, and read The Tradable blog to keep tabs on what's happening in the financial sphere.
CMStrader Signals provider, the number 1 signal provider 4 years in a row
CMStrader Signals provider, the number 1 signal provider 4 years in a row.
CMStrader, the number 1 signal provider 4 years in a row, is now offering free signals to new clients!  Reliable trading tools are fundamental part of successful trading.
CMStrader's signals success rate is estimated in 91% this should be enough to take a look and decide for yourself. since this is their biggest feature and drives this broker towards success, it is opretty afe to say that they do their utmost to provide you with quality forex signals.
This broker also entered the cryptocurrency market and offers several cryptocurrencies.  in short they act on the market and engage their clients directly.
when you start trading at CMSTrader, you can choose from a extended list of currencies, indices, commodities, gold and oil.
CMStrader Signals for better Trading
CMSTrader sends trading signals to traders' accounts when there is an opportunity to buy or sell orders at specific points; an overview of the speculated price or loss ratio is included.
The signals are sent directly via SMS to a cellphone for major currencies traded on the stock exchange, foreign goods and precious metals.
In addition, signals can be sent to an e-mail address and or traders can be notified directly over the phone.  This service is available 24/5.
Like with Most proper signal services don't expect 50 signals a day as simply there are not that many. you will get maybe a few good ones a day on which you could and most of the time should act.
Earn profits with CMStrader Signals in the forex market – the biggest trading scene in the world. Enjoy our unique benefits, trading education, minimum margin and best leverage! Start with a demo account and enter the amazing world of forex with CMStrader.
More about CMStrader Signals & Forex Broker
Name :CMSTrader
Website :cmstrader.com
Established :2013
Regulation :FSP
Country :United Kingdom
U.S. Clients Allowed ?  :No
CMSTrader is a leading investment advisor specializing in personal wealth management and growth and is a somewhat a newcomer to the Forex market.
they started in 2013 and since then have won several awards 2 including one for having best customer service in 2013.
CMSTrader "CMStrader Signals" is authorized under the name of CMS Ventures Limited which is a New Zealand Registered Financial Service Provider (FSP).
Supreme Court Sides With Bits of Gold in Bank Dispute
Supreme Court Sides With Bitcoin Broker "Bits of Gold" in Israeli Bank Dispute
Upon appeal, the Israeli Supreme Court has rejected the closure of Bits of Gold's banking facilities at Leumi bank, Tel Aviv.
The Israeli cryptocurrency brokerage's appeal followed a previous ruling against it that has now been set aside by the higher court.
As Israel and many other countries struggle with the accelerated phenomenon of virtual currencies, Leumi Bank recently made the news for being a particularly blunt in its rejection of Bitcoin.
We should of course not be surprised with the banks attitude towards bitcoin or any other cryptocurrency for that matter. keep in mind that the banks become more and more obsolete because of them. 
They will keep on loosing money which now they make with ridiculous commissions of work that is fully automated. so they will try to see how they are able to make the operation and acquiring cryptos  as hard as possible knowing that they will never be able to stop them.
There is widespread anticipation that the upcoming G20 Summit in March 2018 will produce a global, moderate framework for a regulatory approach. Set against that are persistent hostile stances the world over from banks, asset managers and even governments towards cryptocurrencies.
Now that the countries understand there is money to be made with Taxation in cryptocurrencies they might want to make sure that the banks stay within their lane. 
Apart from the Israeli revenue service opting to tax cryptocurrency assets as "properties" and other more positive developments dating back to mid-2017, Israel remains a strange mix of genteel acceptance alongside wildly opposing voices.
There is thus Hope But no decision
Bits of Gold has fought a David and Goliath battle since their banker decided it wanted to steer clear of all cryptocurrency-related business.
On record as recently telling another bitcoin-related trader that they simply don't want the business, Leumi Bank's hard-line stance is accumulating bad press. The second-largest bank in Israel appears as discriminatory when analyzing virtual currency traders and other digital coin businesses.
During 2017, a customer made a bank transfer to the Kraken exchange site for buying bitcoin worth $1000. The bank identified the request, halted it, and started investigating.
The elated CEO of Bits of Gold, Youval Rouach said that "The court's decision enables us to focus on the growth of the Israeli cryptocurrency community."
The February 26 Supreme Court ruling granted Bits of Gold a temporary injunction against their account closure pending further scrutiny by the bank and other parties. The presiding bench declared that the company had "acted transparently and did not violate any provision of law."
Calling the bank's concerns "speculative" and turning an unsympathetic ear to the plaintiff, the ruling does, however, allow for the bank to still close the account on any small technical detail that defies legislation. As a record of a public spat around cryptocurrency's right to be recognized in many ways, the ruling is seen as a victory for the local cryptocurrency community.
One Small Step Forward
Although not as absolute as nations like China that has opted for draconian bans, Israel is a front line for digital coins' right not just to exist, but also become assets in the true sense of the word. The Supreme Court noted in its written ruling that Bits of Gold had not made itself guilty of the violation of any standing laws since opening its doors for business.
The Bits of Gold v. Leumi Bank case might become something of a test case once the bank applies its mind in scrutinizing the company's accounts against the backdrop of existing legislation. The outcome will also be informed by sentiment post the G20 Summit due in March as well as other global regulatory trends.
Now that the countries understand there is money to be made with Taxation in cryptocurrencies they might want to make sure that the banks stay within their lane.
This was First Published by coindesk
easyMarkets launches Ethereum and Ripple.
easyMarkets launches the crypto-markets' best kept secret – Ethereum and Ripple.
The crypto markets are the new frontier of trading, we have seen unprecedented movement – from astonishing peaks to abrupt crashes – behaviors and easyMarkets launches Ethereum and Ripple.movements no other instrument experiences or has experienced previously.
Bitcoin was immensely popular when we introduced it to our customers in 2017. After closely following the innovative cryptocurrency markets we found two more immensely interesting (but less visible) cryptos to add to our offerings – Ethereum and Ripple.
easyMarkets launches Ethereum and Ripple.
Ethereum is a blockchain based cryptocurrency like Bitcoin, whereas Ripple is a cryptocurrency payment protocol, touted as a solution to perform payments for institutional clients. Although Bitcoin was undeniably the markets' star in 2017 – these two crypto-counterparts had equally impressive movements.
Ripple towards the end of 2017 had a notable 33014% overall climb with a market cap of $83.6 Billion. This was assisted by Ripple's collaboration with institutional users like American Express.
Ethereum had climbed an astounding 8,885% from the beginning of 2017 until the end of that year with a respectable market cap of 69.3 billion. Purely as a cryptocurrency it seemed to even outdo its forefather – Bitcoin – by completing transactions quicker and more effectively.
they have also lowered our spreads on Bitcoin!
Of course, all of their cryptocurrencies include easyMarkets great trading conditions:
Trading Conditions
There's  zero slippage on the easyMarkets web platform meaning your Ripple trades will be executed at the price you see on your screen.
You can trade Ripple during its most active times, around the clock, five days a week.
They got you covered with an in-depth eBook and plenty of other trading education resources.
Make sure you have an exit plan in place by taking advantage of our 100% guaranteed Stop Loss and Take Profit.
They cover your deposit and withdrawal fees, so that the amount you deposit or withdraw is the amount you receive.
Negative Balance Protection means you can never lose more than you invest when you trade Ripple CFDs at easyMarkets.
 easyMarkets launches Ethereum and Ripple.