NSFX Demo Account Review | 2018 Must Read |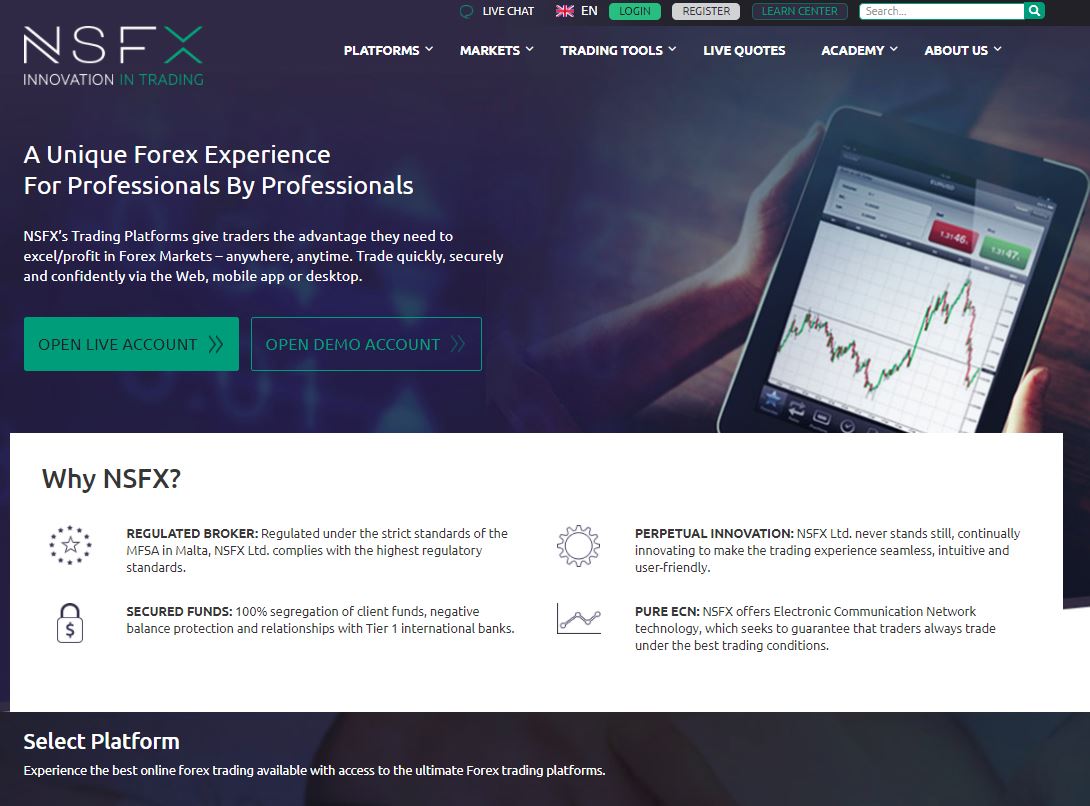 NSFX Demo Account Review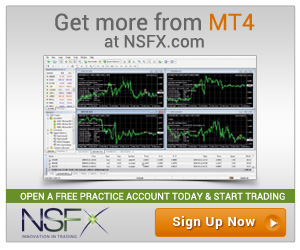 There are brokers that work without making too much noise but are at the same time one ofthe top brokers in the industry?
NSFX.com is worthy of your consideration, even though they just opened their doors for business in 2012.
The firm is subject to some of the strictest regulatory compliance regimens on the planet, and it has taken specific steps to segregate your deposits in Tier-1 banks in separate accounts, far from their operating capital.
Financial professionals that understand the business and know how technology can reshape the competitive playing field founded NSFX.com in 2012.
The firm has operating licenses issued by the Malta Financial Services Authority (The MFSA), files monthly compliance reports with major regulatory bodies, and is in full compliance with the European MiFID (Markets in Financial Instruments Directive), the FSA, and many other regulatory bodies across Europe.
The company distinguishes itself, however, in its approach to technology.
They use the Metatrader 4 line of products, but they have gone one step further, utilizing the best, designers, software developers, and analysts to create an innovative framework not seen from other brokers. The term their new approach as "MyNSFX", defined as "a unified client and partner management console that incorporates the trading platform with every tool no more than one click away and is fully integrated into the core system."
PURE ECN: NSFX offers Electronic Communication Network technology, which seeks to guarantee that traders always trade under the best trading conditions.
The firm's obvious goal is to immerse you in the next generation of forex trading.
NSFX Beginners' and Customer Support
The NSFX.com website may be viewed either in English & Arabic. An account manager is assigned to each new account, and customer service representatives are available "24/7" that speak each of the above languages with the exception of Turkish.
The Trading Academy is also free and is full of resources that will benefit beginner and veteran alike from learning the basics to developing complex trading strategies. There are weekly webinars on all aspects of trading and a vast library of video tutorials.
they have an very extensive academy for the new traders, this part they offer a video Course.
FX Video Courses  | NSFX Demo Account Gives access
Features of NSFX
Why trade with NSFX.com? The firm lists these reasons:
NSFX is in compliance with all major regulatory agencies across Europe;
Client deposits are 100% segregated in Tier-1 bank accounts, separate from the firm's operating capital;
The firm has partnered with Barclays, CitiFX Pro, UBS, Bank of America and Deutsche Bank to secure the stability, safety and liquidity that only large banking institutions can provide;
Negative balance protection is provided on all accounts;
Trade 70+ currency pairs, choosing fixed or variable spread trading methods;
Trade from any device with the company's proprietary trading platform or use one of the many MT4 trading offerings for either traditional or ECN type trading efficiency;
Leverage varies by platform choice but can be as high as 200:1;
Spreads can be as low as 0.9 pips on the EUR/USD pair;
A personal account manager is included with each account package;
Registration is free, but the minimum deposit is $300;
Major credit and debit cards, wire transfer, and a variety of local payment methods ensure prompt and easy movements of funds;
Full range of educational and training materials, ebooks, and tutorials;
Customer service reps are available "24/7" and speak English, Arabic, Italian, and German, while the website can be read in each of these plus Turkish.
Account Comparison
| | | | |
| --- | --- | --- | --- |
| | MT4 FIXED | MT4 ECN | JForex |
| Initial Minimum Deposit | 300 USD | 3,000 USD | 5,000 USD |
| Lot Size (FX) | 100,000 Units | 100,000 Units | 100,000 Units |
| Minimum Trade | 0.01 Lot | 0.01 Lot | 0.01 Lot |
| Maximum Leverage | Up to 1:50 | Up to 1:50 | Up to 1:50 |
| Spreads | Fixed | Variable Spreads | Variable with Market Depth |
| Instruments | FX Majors | 50+ Currency Pairs, Commodities, Indices | 50+ Currency Pairs, Commodities, Indices |
| Deposit Currency | USD, EUR, GBP | USD, EUR, GBP | USD, EUR, GBP |
| Deposit Options | Bank Wire, Credit Card, Skrill | Bank Wire, Credit Card, Skrill | Bank Wire, Credit Card, Skrill |
| Margin Call | 20% | 20% | 20% |
| MAC/Linux friendly | Web-based | Web-based | Full Download Version |
| Mobile Trading/Tablets | iOS & Android | iOS & Android | iOS & Android |
| Live Support | 24 / 5 | 24 / 5 | 24 / 5 |
| Daily Analysis | Free | Free | Free |
| Execution | Instant Execution | Market Execution | Market execution |
| Hedging | Allowed | Allowed | Allowed |
| Scalping | Not Allowed | Allowed | Allowed |
| Expert Advisors | Disabled | Enabled (MQL) | Enabled (Java) |
| Personal Account Manager | Yes | Yes | Dedicated |
| *Commissions on Trades | No Commissions | $8 per lot R/T | $8 per lot R/T |
Spreads and Leverage
Spreads using an ECN approach can be as thin as 0.9 pips for the Euro. Leverage varies by trading platform from 100:1 to 200:1.
Platforms
 Developed in 2000 by MetaQuotes Software Corporation, the MetaTrader4 trading platform fast became one of the most popular trading platforms in the world. The MT4 platform is dynamic and user- friendly, providing traders with a powerful range of features and tools including:
World's most used trading platform
Exceptional Execution
Suitable for fundamental and technical traders
Powerful Charting Tools
Multilingual Facility
Real Time Quotes
Custom trading strategies
Automated trading alarms and signal messages
Wide range of indicators and expert advisors
Available for: Desktop, Web and Mobile
One click trading
NSFX JForex
NSFX's JForex trading platform offers clients the ultimate trading experience.
JForex takes trading to the next level, providing exceptional execution under any market conditions due to the integrated ECN and STP trading technology and the tightest spreads due to the deep liquidity from the Tier 1 liquidity providers. The JForex platform is suitable for any type of trader – from beginner to professional, and traders who use proprietary automated trading systems.
JForex supports a wide range of direct and pending orders with the ability to place trades directly within the spread. Orders include Market, Limit, Stop, Stop Loss, Take Profit, Place/Bid offer, Trailing Stop, Stop Limit, OCO, IFD, and more. The JForex platform also has a built-in API which allows for custom strategies and actual cod programming. Other built-in capabilities include over 180 technical indicators, live news stream, economic calendar and integrated analysis tools.
JForex contains additional cross-connected platforms such as the PAMM for money managers, hedge funds and financial advisers as well as the Visual Strategy Builder and Optimiser for automated system programmers and traders.
JForex platforms exist for Web, mobile smart devices and desktop.
Exceptional execution under any market conditions
Integrated ECN and STP trading technology
Tight spreads
Suitable for any type of trader – from beginner to professional
Ability to place trades directly within the spread.A built-in API
Integrated Economic Calendar and Analysis
Over 180 technical indicators
Cross-connected platforms
Available for: Desktop, Web and Mobile
Deposits and Withdrawals
All major credit/debit cards, Moneybookers (Skrill), banking wire transfer, and CashU are supported, making deposits and withdrawals a convenient and easy process. in addition The minimum deposit required has been set at $300, and withdrawal requests will be handled promptly, as long as internationally mandated identity documentation is already on file.

NSFX Ltd. holds a Category 3 investment services License no. IS/56519 issued by the Malta Financial Services Authority (The MFSA).
Regulated by MFSA

Malta Financial Services Authority

The Malta Financial Services Authority MFSA is the single regulator for financial services in Malta. It was set up by special Act of Parliament, the Malta Financial Services Authority Act, 1988 as amended in 1994 and 2002 taking over supervisory functions previously carried out by the Central Bank of Malta, the Malta Stock Exchange and the Malta Financial Services Centre. The Authority is a fully autonomous public institution and reports to Parliament on an annual basis.
Read More »

MIFID Compliant

Markets in Financial Instruments Directive

NSFX Ltd. complies with the European Markets in Financial Instruments Directive (MiFID). MiFID provides a harmonized regulatory environment for investment services across the European Economic Area (EEA). The main objectives of the MiFID Directive are to enhance financial transparency, increase competition, and offer greater consumer protection in investment services.
Read More »
NSFX Ltd. is authorised to operate within the EEA and the following regulatory bodies have given their approval for NSFX Ltd to provide cross border investment services in their country:
FCA

Financial Conduct Authority

United Kingdom – Registration Number: 595195

---

The Financial Conduct Authority (FCA) is an independent non-governmental body, given statutory powers by the Financial Services and Markets Act 2000. It is a company limited by guarantee and financed by the financial services industry. Read More »

BaFin

Federal Financial Supervisory Authority

Germany – Registration Number: 131055

---

The Federal Financial Supervisory Authority (Bundesanstalt für Finanzdienstleistungsaufsicht – BaFin) supervises banks, financial services providers, insurance undertakings and securities trading. The objective of financial supervision is to ensure the proper functioning, stability and integrity of the German financial market.
Read More »

ACP

French Prudential Supervisory Authority

France – Registration Number: 74397

---

The French Prudential Supervisory Authority (Autorité de Contrôle Prudentiel – ACP) is an independent administrative authority, which monitors the activities of banks and insurance companies in France. It operates under the auspices of the French central bank, Banque de France. Read More »

Consob

Italy – Registration Number: 3597

---

The supervisory authority for the Italian financial products market; its aims are to protect investors and the efficiency, transparency and development of the market. Read More »

CNMV

Comisión Nacional del Mercado de Valores

Spain – Registration Number: 3354

---

The Comisión Nacional del Mercado de Valores (CNMV) is the agency in charge of supervising and inspecting the Spanish Stock Markets and the activities of all the participants in those markets. It was created by the Securities Market Law, which instituted in-depth reforms of this segment of the Spanish financial system. Read More »

FINANSTILSYNET

Denmark – Registration Number: 9221

---

The Danish FSA is part of the Ministry of Business and Growth and acts as secretariat for the Financial Business Council, the Danish Securities Council and the Money and Pension Panel. Read More »
NSFX Demo Account Review
Buycryptomarkets Review – top 75 Broker?
Buycryptomarkets Review
buycryptomarkets is a global forex and CFD broker with trading platforms that is suitable and fully functional for all devices.
This is a good option for all levels of traders, although the product portfolio is average, and there is an inactivity fee to be aware of.
Initially formulated in 2023 to provide a robust forex trading platform, buycryptomarkets offers to include CFDs, indices, shares, commodities, and cryptocurrencies.
buycryptomarkets has several trading tools and features designed to make your trading experience as smooth as possible. The trading platform has been heralded as a simple and convenient platform without losing the functionality you would find at MetaTrader 4. Some education is also available through the trading platform, and highly responsive customer service is available 24 hours a day.
Please read my full buycryptomarkets review for further details of this forex broker so you can decide whether buycryptomarkets can meet your needs.
Who is buycryptomarkets?
buycryptomarkets is a global forex, spread betting, and CFD online broker. buycryptomarkets is an online Crypto and Forex Broker providing traders across the globe with cutting-edge technology to trade the world's markets. In a continuous effort to give their traders a more comfortable and safe trading experience, their experts have been improving their service and solutions ensuring traders have the freedom to trade whenever and wherever they like.
buycryptomarkets product range overview
The product range at buycryptomarkets is average compared to other brokers. They offer a solid selection of currency pairs and CFDs, no futures CFDs, and an average number of commodity and stock index CFDs. additionally, they do offer leverage trading on the main cryptocurrencies.
Forex trading
More than 50 Forex pairs are available at buycryptomarkets with no commission and some of the tightest spreads in the industry.
Indices and Financial Trading
Indices and financial CFDs have flexible margin requirements and low spreads, representing some of the industry's best spreads. There are no overnight or hidden fees of any description to worry about.
Commodities Trading
At buycryptomarkets, there are several commodity CFDs, including metals and energies.
Share CFDs Trading
Trade more than 100 company shares without ever owning the underlying security. At buycryptomarkets, you can access global stock exchanges with the option to go long and short and benefit from leverage. For non-leverage trading, there is zero commission.
Buycryptomarkets Accounts
There are a few trading account options at buycryptomarkets.  there is not a lot of info concerning this till you are actually in the registration process.
the only thing you should know is that the minimum deposit for opening an account is only $250.
Variety of Trading Accounts
No matter your trading exposure, you deserve an opportunity to trade in CFDs. With access to multiple trading account types, you can choose the right account for yourself and start performing trades in multiple CFDs.
The more experience you gain in the online trading market, the higher trading account you can adopt to trade in more challenging environments. If you are a beginner, start by making a minimum deposit of $250 to trade with a basic account.
Buycryptomarkets 
web trading platform
The web platform allows you to place trades directly from your web browser in an easy-to-use interface that is customisable and available in several languages. The web trading platform falls short because of its lack of social trading; however, it is well-designed with several useful features.
There is a two-step login for additional security, and you can search for an asset using its name or by category. Order types include:
I was impressed with both the portfolio and fee reports which were comprehensive and easy to use, with clear information on commission, swap fees, and performance.
There are also the following useful features available on the trading platform:
Trailing stop
Trailing the position of a current price can then trigger a stop order as the price reaches a predetermined distance from a stop order. It works similarly to a stop order but in a more controlled way that aligns with movements in the market.
Market Sentiment
This allows you to closely monitor movements in the market using data from other traders concerning a specific instrument.
This allows you to mitigate risks by investing in the same product in a different direction.
Charts
Real-time charts provide up-to-the-moment information, including historical trends, forecasts, and current trends.
Buycryptomarkets
mobile trading platform
The mobile trading platform is in keeping with the web trading platform, with much of the same functionality. 
The actual design is well laid out and easy to use with customizability. I found the mobile app fast with personalised watch lists and the ability to open positions directly from real-time charts.
There are price alerts that include statistical alerts, which can be monthly or yearly for currency pairs, indices, etc. Clicking on the alert will automatically open the app on the instrument.
buycryptomarkets customer service review
Customer service is excellent at buycryptomarkets, with immediate response times across multiple channels.
There are several channels for contacting customer support, including phone and email. When I tested their service, my query was dealt with immediately without even the intervention of a chatbot. The service provided via email and phone was similar, with fast, relevant responses to my queries. Customer service is provided 24/5, which is above average.
buycryptomarkets is opening an account.
The account opening process is straightforward, fully digital and quick. You will need your ID.
To open your account, you should first decide on the account type you wish to open
Then you can follow these quick and easy steps:
Select your country of residence

Add personal information, including name and email address

Choose a password

Enter your home address and tax residency

Complete some simple questions relating to your trading experience

Fill in information about your personal finances, such as income savings and employment status

Select your base currency

Upload your ID documentation and proof of address, such as a utility bill or bank statement.
buycryptomarkets Deposit and Withdrawal
Deposits and withdrawals and essentially free, and the minimum deposit is high compared to what you would find at other brokers.
Before making your first deposit, you will need to choose between the following base currencies:
EUR, USD, GBP
Deposit options include:
Bank transfer

Credit and debit card

Cryptocurrency
The minimum deposit is $5000, which is higher than other brokers. There are no fees should you choose to deposit via bank transfer from your bank account.
Bank transfers take several business days.
Withdrawals can be made using the same methods accepted for deposits, and there are no withdrawal fees for electronic wallets and credit/debit cards. 
buycryptomarkets safety
buycryptomarkets is not regulated by the Financial Conduct Authority (FCA) but is performing full due diligence to comply with AML regulations.
In addition, all client funds are held in segregated bank accounts to protect those funds should buycryptomarkets go bust.
The buycryptomarkets negative balance protection protects client funds should their balance go negative.
buycryptomarkets fees
buycryptomarkets has low CFD and forex fees and average non-trading fees.
Fees can be separated into two main categories for a CFD and forex broker: trading and non-trading fees.
Trading fees
The trading fees will vary depending on the financial instruments you are trading within each asset class. Trading fees can be charged as a spread, a commission, or a financing rate.
Spreads differ between the bid and ask price for a foreign currency price. Here's how buycryptomarkets spreads compare against some other forex brokers:
Non-trading fees
buycryptomarkets has low non-trading fees as they do not charge deposit and withdrawal fees, and there is no account fee.
Inactivity fees are charged. There are inactivity fees to be aware of. However, these will only kick in once your account has been inactive for several months and you have a positive balance.
Who is buycryptomarkets suitable for?
buycryptomarkets is suitable for all levels of traders looking for a solid trading platform and very competitive spreads.
The selection of account types is aimed at both retail and professional investors.
Forex Risk Disclaimer
There is a very high degree of risk involved in trading securities. Concerning margin-based foreign exchange trading, off-exchange derivatives, and cryptocurrencies, there is considerable exposure to risk, including but not limited to leverage, creditworthiness, limited regulatory protection, and market volatility that may substantially affect the price or liquidity of a currency or related instrument. It should not be assumed that these products' methods, techniques, or indicators will be profitable or will not result in losses.
Equaledge Review – Demo Account – top 100 Broker ?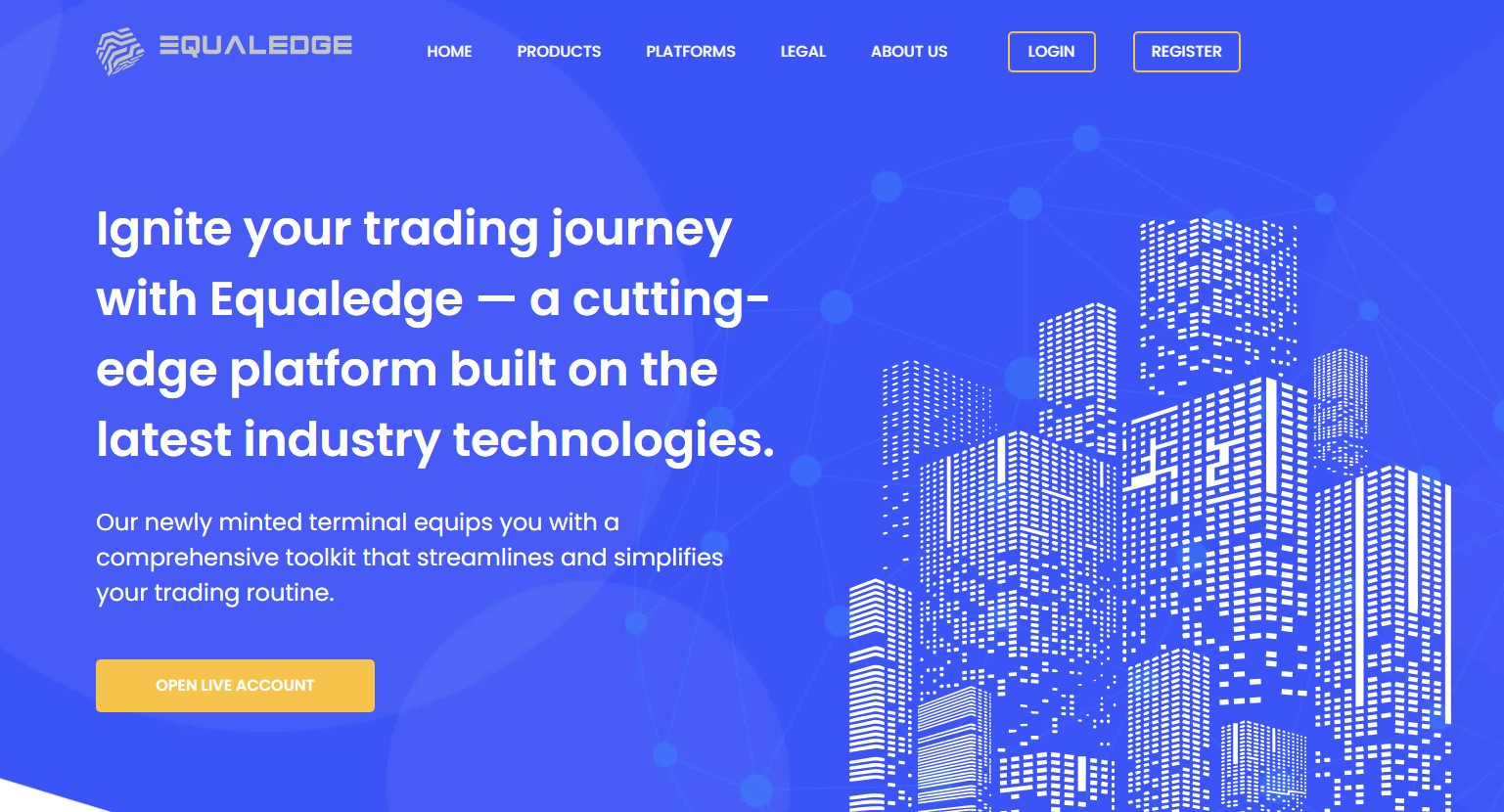 equaledge Review
equaledge is a unregulated broker based in Kingstown St. Vincent and the Grenadines. They offer a fantastic selection of over 400+ trading instruments with very competitive trading conditions including reasonable spreads and minimal trading fees. You can get straightforward access to the markets via user-friendly platforms with a relatively high minimum deposit fee of $5000. Alternatively, they do provide free demo accounts if you want to practice your trading skills before making a financial commitment. You will find plenty of tools for assisting with your market analysis so you can pinpoint trading opportunities and make informed decisions.
I like how they are an experienced broker with a dedicated premium relationship management team to help guide you along the way. If you are a trader and want to trade in a professional environment across all of your devices, I think they are certainly worth consideration.
Pros & Cons
Pro's
Large choice of more than 400 trading instruments
Trade on 40+ forex pairs with spreads from 0.8 pips
Invest in the world's largest indices and more
Explore European and US shares CFDs
Cutting edge platforms suitable for all types of traders
Choose from and trade a wide range of both soft and hard commodities
Good variety of quick and easy payment options
Free demo accounts available to practice trading
Excellent customer support
Con's
Clients from a few countries are not accepted
No daily market analysis to inspire trade ideas
Market maker broker means they don't have the lowest spreads
Only provide support during office hours
Inactivity fees apply
Not regulated
Summary
equaledge is a online brokerage where you can open an account to trade shares, indices, forex, commodities and more. Equaledge was launched in 2023 as to satisfy demand for a fast, professional and easy-to-use online spreads trading platform. With a quick registration process and friendly website, equaledge soon will become a prominent player in the financial trading sector.  equaledge.com, a powerful, advanced trading platform with a fresh new feel.
The broker offers a very impressive selection of more than 400 financial instruments for online trading via its cutting edge trading platforms. I found the spreads to be very good and trades executed swiftly. On its proprietary platform, there are plenty of powerful trading tools available to you for analysing the markets and to manage your trade positions.
Funds
Client funds are kept in segregated bank accounts held with the top-rated banks. This helps to ensure that they are not used for any other purposes such as business running costs.
'Know Your Customer' (KYC) verification is carried out on every client. This procedure entails uploading a 'government issued id card' and 'a utility bill'. This is a regulatory requirement and it is important in order to identify every client to ensure that illegal acts like money laundering, financing terrorism, etc, are not carried out on the pretext of forex or CFD trading.
Countries
equaledge does not accept clients who are residents of the United States, Belgium, NKorea, Singapore or any particular country where its services will be contrary to the local law or regulations.
Equaledge.co Trading Platforms
You can enjoy a seamless trading experience wherever you are with a powerful and advanced trading platform from equaledge. You can get the full functionality with all the bells and whistles using the desktop platform or download the equaledge mobile platform and trade market moves as they happen from the palm of your hands. I personally find the desktop platform ideal for when I need to conduct detailed chart analysis but like the convenience of the trading app for keeping track of my account and the latest market news whenever I feel like it. Either way, I think the platforms are very user-friendly and provide everything you need for trading online without any hassle.
equaledge Platform
This is the proprietary trading platform from equaledge. This intutive platform is web based which makes it convenient as it requires no downloads or installations. It is also versatile because it runs across all operating systems and comes with useful market analysis and trading tools. You can analyse markets using a multitude of indicators and drawing tools across various chart types. I like how you are able to create your own watchlists and set price alerts to keep track of the markets you follow and trade. It is flexible as you are able to customise and save up to 10 unique workspaces with the chart views and time frames that you need, when you need them. The intuitive trade tickets make it simple to set up and understand your Stop and Limit levels for neccesary risk management.
Tools
The equaledge platforms come fully loaded with more tools than most of you will ever need. The abundance of built-in indicators and other useful tools, it is nice to see that equaledge have a few more to improve your trading possibilities.
Markets
There is a great selection of more than 400 trading instruments for you to choose from. I think there should be enough to build a diverse portfolio for anyone, regardless of your interests.
Forex Trading
Trade forex with 45+ majors, minors, and exotics with spreads as low as 0.6 pips. FX is traded in pairs, where one will rise (or fall) in value against the other.
Indices Trading
Invest in the world's largest indices. An index measures the performance of a group of companies, typically weighted by market capitalization.
Shares Trading
Explore 10s of European and US shares CFDs. Shares CFDs give traders a way to speculate on the value of publicly listed companies without needing to physically own stocks.
Commodities Trading
Choose from and trade a wide range of both soft and hard commodities ranging from traditional markets like gold and oil, to wheat, cotton, and even orange juice.
Accounts
I found the broker to provide transparent and fair spreads across all markets. They only offer five account types which are based on investment amount. You can choose between the different account buy simply  investing a different amount. Inactivity fees are charged from accounts that have been dormant for 6 months and above. The fee is charged monthly until the account is depleted or the client begins trading again. They don't provide spreads from 0.0 pips so might not be ideal for those of you who are planning to use scalping systems.
BASIC ACCOUNT
STANDARD ACCOUNT
GOLD ACCOUNT
PRO ACCOUNT
VIP ACCOUNT
MINIMUM DEPOSIT
$5,000
$10,000
$25,000
$100,000
$250,000+
ORDER EXECUTION
Instant
Instant
Instant
Instant
Instant
ACCOUNT CURRENCY
USD, EUR, GBP
USD, EUR, GBP
USD, EUR, GBP
USD, EUR, GBP
USD, EUR, GBP
ACCOUNT MANAGER
yes
yes
yes
yes
yes
SPREAD, PIPS
Fixed
Fixed
Fixed & Floating, Variable
Fixed & Floating, Variable
Fixed & Floating, Variable
QUOTATION
(NUMBER OF MARKS
AFTER POINT)
5 marks
5 marks
5 marks
5 marks
5 marks
LEVERAGE
100
100
200
500
500
MAX. TRADE SIZE
10 lots
20 lots
40 lots
50 lots
100 lots
RE-QUOTES
None
None
None
None
None
MARGIN CALL LEVEL
40%
40%
40%
40%
40%
STOP OUT LEVEL
30%
30%
30%
30%
30%
TRADING PLATFORM
all devices
all devices
all devices
all devices
all devices
CUSTOMER SUPPORT
24/5 support
24/5 support
24/5 support
24/5 support
24/7 support
Support
The equaledge customer service team works during office hours CET time from 8:30 am to 9:00 Mondays to Fridays. The team can be reached on various phone numbers and emails. . I think they could improve by adding live chat support as I often find this to be the quickest way to speak with someone.
But they offer to chat direct to their support through WhatsApp +447835182154
Alternatively, you can explore the most frequently asked questions on everything from setting up your account, to getting more out of the platforms and tools, or send them an email through [email protected]
Funding
This is an aspect of the broker I was also impressed by. I like how they have a good variety of quick and easy account funding options for you to choose from. This includes digital wallets which I find to be the most convenient for moving funds around between my trading account.  Withdrawal requests received before 2pm are attempted to be processed on the same working day. Just keep in mind that they do not accept third party deposits. All deposits must emanate from the same name on the trading account.
Bank Transfer
Take 3-7 days for the funds to reach equaledge bank accounts.
Credit/Debit Cards
Deposits made by cards are processed instantly. But, card withdrawals can take up to 7 days depending on the location of the client and the card processors.
Online Payments
Deposits are processed instantly while withdrawals take up to 24 hours.
Cryptocurrency
Payment is processed within 2 hours.
Conclusion
equaledge is a online broker that offers Hundreds of tradable assets to its clients via its flexible and sophisticated trading platform. The Brand abide by the regulatory rules which include account segregation, digital security, client verification without actually being regulated.
The wide array of tradable assets on the broker's platforms is impressive at over 400. It is an outstanding platform replete with essential trader tools for conducting comprehensive market analysis. Their trading platform very popular and widely accepted by professional traders across the globe. You can seamlessly access your account and trade between all of your devices.
However, in the area of market news and analysis, I think the broker is lacking behind when compared to other top-rated brokers. There is limited expert analysis, daily insights and trading ideas. Trading accounts are limited with no mini/micro accounts for testing the real trading conditions but free demo accounts are available. I didn't find the spreads to be the lowest but it is worth considering there is no commission fee on trades. There is also an inactivity fee to be aware of and funding without any fees is limited.
Overall, I think they can be a good choice of broker for anyone who is looking for easy market access  with decent trading conditions and excellent customer support.
Forex Risk Disclaimer
There is a very high degree of risk involved in trading securities. Concerning margin-based foreign exchange trading, off-exchange derivatives, and cryptocurrencies, there is considerable exposure to risk, including but not limited to leverage, creditworthiness, limited regulatory protection, and market volatility that may substantially affect the price or liquidity of a currency or related instrument. It should not be assumed that these products' methods, techniques, or indicators will be profitable or will not result in losses.
Exallt Review – Demo Account – top 75 Broker ?
Introduction to Exallt Review 
Let us start from the beginning. People should remember that Exallt offers many investment tools in the capital markets. Creating a portfolio with cryptocurrencies, stocks, commodities, ETFs, and more is possible.
It is a new brokerage that has just opened its door. That said, Exallt Live can offer exemplary services and products.
To get more details, proceed with Exallt review. The next sections will provide a detailed professional analysis of the broker and its offerings.
Broker Name:
Exallt
Broker Type:
CFD broker
Operating since year:
2023
Regulation:
Only KYC/AML
Broker status:
Independent Broker
Customer Service
Phone:
+44 2086382873
Email:
[email protected]
Languages:
English, Spanish
Availability:
phone, email, Social Media
Trading
Trading platforms:
 Desktop, Mobile and Webtrader
The Trading platform Time zone:
Demo account:
Yes
Mobile trading:
yes
Web-based trading:
yes
Bonuses:
yes
Other trading instruments:
Forex, CFD, crypto, commodities, indices, stocks
Account
Minimum deposit ($):
$5000
Maximal leverage:
1:400
Exallt Trading Products and Interesting Details
Commodities
Explore top commodities, trade what you want, when you want.
Explore trending commodities such as gold, silver, oil, and others, use innovative tools and make informed trading decisions at Exallt. Benefit from advanced charting and analysis as well as ultra-fast transaction processing. Exallt delivers a trading environment that helps investors to grow.
Interestingly, it is possible to trade different types of commodities. For example, oil and natural gas. Moreover, precious metals such as gold and silver.
Forex
Forex trading is made simple by Exallt.
Forex is the most traded market in the world. It is a decentralised global market for the trading of currencies. The most popular FX pairs involve major international currencies and experience the highest trading volumes and liquidity. This market determines foreign exchange rates for every currency.
Indices
Expand your trading opportunities. Trade the most popular indices at Exallt!
Indices are another in-demand trading asset. An index measures the performance of a group of stocks, bonds, or other assets. By trading indices, you can gain exposure to a wide range of assets without buying them individually. Most index trading is done with financial derivatives like CFDs. This makes it an ideal way to diversify your portfolio and manage risk.
Stocks
Trade stocks at Exallt.
Exallt is about making stock trading easier. Get real-time access to stocks from top exchanges of the world. Diversify your portfolio with a large variety of leading global stocks. Stock trading ensures two ways of earnings: through capital appreciation or dividend payments. This market features the potential for the highest returns.
Cryptocurrencies
Exalt – the easiest and the most secure way to trade cryptocurrencies.
If you can time the market right, trading cryptocurrencies gives you much higher returns than traditional investments. It minimizes risk as you speculate on the rise and fall of the market without owning the asset. Being decentralised, cryptocurrencies allow for more freedom in trading, as there are no restrictions on how much can be traded or how often.
Exallt and its Trading Platform
It is hard not to mention its platform. Hopefully, it is quite easy to use the platform. 
As a reminder, trading is simple. The first step is to select an asset. All users have to do is click on the "asset" tab on the platform. They need to choose a preferred asset from the extensive tradable asset selection offered by the firm.
The next step is deciding on the amount a trader wants to invest in any trade. Unsurprisingly, the higher the investment, the higher the potential rewards.
Moreover, deciding whether to go short or long on their preferred asset is important. Advanced charts, graphical trading tools, technical indicators, and live analysis help to make an informed decision on probable future price movements.
It is important to remember about risk factors. When a trade position opens, customers should protect their positions from market risks. Customers should use Stop Loss and Take Profit orders. Thanks to Stop Loss orders, it is possible to reduce potential losses. Moreover, Take Profit orders allows users to lock in their profits.
Users should remember that Stop Loss and Take Profit orders will automatically close their positions when triggered.
Exallt and Education
Hopefully, Exallt Live offers interesting information. It is desirable to read every chapter of the guide. Moreover, people will find this guide brimming with information for their financial education. Furthermore, Exallt 's goal is to educate investors and bring transparent investing to anyone who wants it, not just the elite.
Security Of Funds
RISK MANAGEMENT
Exallt continually detects, assesses, monitors, and controls each risk associated with platform users' trading transactions, operations, and actions. This means that they continuously evaluate the effectiveness and compliance of the policies, approaches, and procedures. Such a system approach allows Exallt to cover its financial needs and capital requirements quickly.
SEGREGATED ACCOUNTS
Exallt is incredibly proud of ensuring the ultimate protection of clients' funds. They apply a model that keeps our clients' funds separate from the company funds. In the unlikely event that Exallt would ever enter liquidation, the clients' funds are wholly segregated off the balance sheet and cannot be used to cover the company's debts and pay back creditors.
REACHING THE TOP EU BANKING INSTITUTIONS
Exallt attentively chooses the financial services to partner with. Exalt needs additional facilities to support and conduct transactions. They partnered with payment service providers to work with numerous banks worldwide, including central tier-one banks such as Barclays, HSBC & Deutsche Bank. Rest assured, the security of Clients' funds, alongside Execution and Customer support, forms the essential focus of Exallt's activity.
Exallt Review: Conclusion
As can be seen from the review of Exallt , it makes sense to cooperate with this firm. . Moreover, its website provides many interesting details, and it is desirable to have a look through their website to see how well Exallt suits you.
We strongly hope that this Exallt review will give you accurate information about the broker enabling you to make the right decision of choosing this broker.