Neteller Launches Cryptocurrency Exchange Service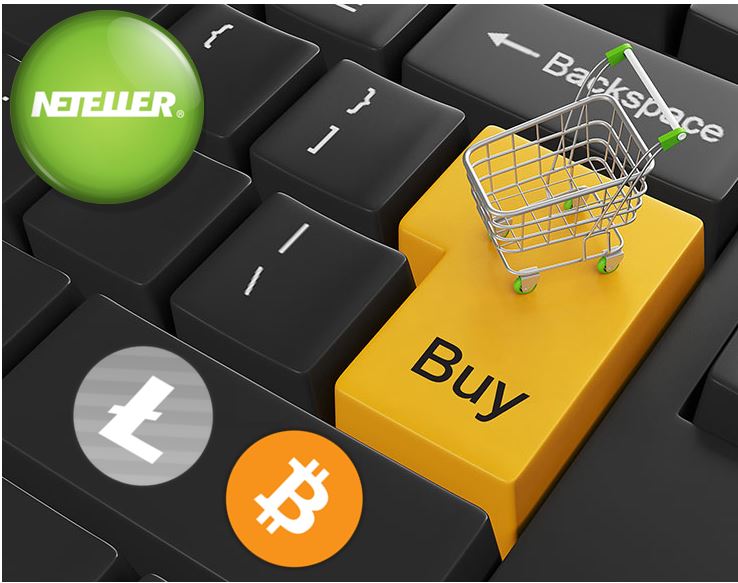 Neteller Launches Cryptocurrency Exchange Service
Neteller  one of the most known Digital fiat currency wallet provider , has started allowing its users to buy, sell, and hold cryptocurrencies including BTC, BCH, ETH, ETC, and LTC.
They do this on the large scale with a pilot in 10 countries and soon another 50 countries to join . They understand that if you do this effort it will only succeed if you can do this on a global scale.
Neteller and Cryptocurrencies
Neteller is a service which is operated by Paysafe Financial Services Ltd.,
founded in 1999, Paysafe Financial Services entered the market with the mission to provide an online alternative to the known traditional payment methods.
Most of the traders aiming us now neteller as one of the companies through which we made our deposits and if we had any profits also our withdrawals. A couple of years ago they left the Forex and Binary industry behind since the charge-back issue became just too expensive.
But as any companies knows, if you do not adept you die. The binary option market is all but dead and the Forex industry has moved also into the directions of the cryptocurrencies. thus, neteller understands that this is where the future is.
So Lasts week they announced that they are now offering a wallet with buy and sell cryptocurrency options.
As of today, Neteller users can buy, hold and sell cryptocurrencies via a recognized cryptocurrency exchange including bitcoin, bitcoin cash, ethereum, ethereum classic and litecoin, purchased using any one of 28 fiat currencies available in the Neteller wallet.
It may not seem so exciting but for many users that love this service it actually is. More and more currencies will be added making them an true exchange in the near future.
Now one is able to fund their neteller account through many different means (Mobile, Epay, Paysafecard, local bank deposits, and bitcoin)
We think that will make the threshold for many people, who would want to buy or sell cryptocurrencies, lower. This in return is a good thing for the overall acceptance of the cryptocurrencies in the mainstream of every day life.
Conditions for buying and selling cryptocurrencies through Neteller
The rates offered are somewhat in the lower middle of the current market making them go for the save route. The average market rates on the major cryptocurrency exchanges differ all in all not that much anyways, as this is not the main reason to choose to buy Bitcoin through Neteller
The minimum cryptocurrency purchase or sale amount is "approximately equal to 10 EUR," the firm clarified, adding that the maximum amount depends on the transaction limits associated with each account.
When You open an account with Neteller you have to choose your default currency. This is of course for most people in accordance on their geographical locations, people in Britain will go for the pound most Europeans go for the euro and pretty much the rest of the work goes for the US Dollar, thou other currencies are available
The fee is 1.5 percent for purchasing and selling cryptocurrencies from wallets with EUR or USD as the default currency.
The fee rises to 3 percent for wallets with other default currencies.
Neteller  | Why is this a good move for neteller and one that we should expect from other online Payment providers as well ?
At this moment till last week Neteller users can pay, get paid on thousands of sites, and send money around the world through their system.
The company claims to have "millions of point-of-sale, ATM and online locations" for users to withdraw or spend their cash.
Last July 25, Paysafe ( which as you remember is the company that owns Neteller

and Skrill)  announced that another digital wallet provider in its group, Skrill ( formerly known as moneybookers), started allowing customers to "instantly buy and sell cryptocurrencies, including bitcoin, bitcoin cash, ether and litecoin, using any one of the 40+ fiat currencies available in the Skrill wallet."
We could now see that this was like their test run on this concept.
We do not know the numbers that Skrill produced since they offered this service but it must have been encouraging enough for Paysafe to include their flagship brand in this endevour.
We will see where this leads but we are hopeful that this is the next step in global acceptance to the cryptocurrency revolution. Let me know what you think
Online Trading platform SIRIX
SIRIX|  Online Trading platform SIRIX Review
[yasr_overall_rating]
Everyone that has been trading for some time has most likely traded on the metatrader 4 trading platform of metaquotes. This has been the standard in the industry for the last couple of years.
But more and more brokers Like CMSTrader and UBCFX are offering alternatives that might suite certain traders even better then the MT4 as they have a lower learning curve and are designed more intuitive.
One of these platforms is the Sirix Trading Platform.
The Sirix Trading platform is
Sirix, a fully packed trading software with numerous with numerous options and special indicators that are designed by the software company to present you with a personalized trading experience.
Positive features and benefits of the Sirix Trading Platform
• Ease of Use: if you are a trader you will be able to access your Sirix trading platform and see all your trades and other information at any place and time. The Web-trader is a fully function trading platform that does not require you to do any download. This has more or less become the norm of the industry and if you for example take the Sirix Trading platform of LegacyFX you will be able to have a download desktop version, a web version and a mobile version.
these in general all have the same functionalities but of course is the mobile version a bit more limited due to the smaller screen real estate.
• Indicators and Options: this platform provides build I more than 50 Indicators which for most traders is over kill but it does allow most traders to find the right indications to match their trading behavior and trading strategies.
The Charting Package that Sirix provides is easy enough to understand and gives you as a trader all the information you need, there are different time frames that in combination with the ability to display lines and annotations make this platform feel like it is designed for you.
• Social Trading: Sirix has a full feature social trading module that allows you to watch the trades of others which might give you new insights and trading ideas. If you come a across a trader that is particular successful you are able to copy that traders' trades and create a full automated copy trader,
You as the trader are still in charge and you have the option to trade with lesser or higher amount then the trader you are copying.
In order to use the social trading, you have to open an account with their social trading community.
This can only be done by using a nickname an order to protect you identity. When you are part of the community then you are part of all the brokers that offer this feature to their traders. Meaning you are able to follow a trader that is trading with 12trader while you are trading with account from UBCFX or any other broker that has Sirix.
Now I have to mention that if you look to only trade social then the Etoro Platform is still a better solution s this system is built only for social trading and they have pretty much defined the concept.
---
Sirix Crypto Trading Platform
this is the latest platform that was launched by Leverate.
it focuses , just like the name says more n the trading of cryptocurrencies.
as this company understands that this is the direction where the market is going and more and more traders are asking for trading in Bitcoin or ripple trading to just name a few they have added this feature to the Sirix Platform , this means that every broker that has the sirix trading platform is in theory able to offer trading in cryptocurrencies.
in addition they have launched also a platform that is only trading cryptocurrencies but that will be another review as i have yet to see and play with this system
---
Conclusion
The Software company Leverate has created a very user friendly platform with inbuilt social trading and news functionality. When they launched this platform in 2012 it was already a good platform but today it rivals the best of them easily.
The Intuitive aspect of this platform is one of the key features and makes the threshold of trading lower for newbies. There is also a fastn amount of Sirix Tutorials out there that will help even the total beginners with the Sirix Platform
Now of the traders that need bots and more indicators then there sis still nothing that beats the metatrader 4 trading platform but for many traders Sirix offers more then enough and makes the trading experience easier then with MT4.
More and more brokers are offering this alongside their other trading platform so you as a trader will come across more and more brokers that have the Sirix Trading platform in their arsenal.
These are some of the Best Broker for trading on Sirix
Who Will Speak at Blockchain & Bitcoin Conference Stockholm?
Who Will Speak at Blockchain & Bitcoin Conference Stockholm?
Bringing DLT Specialists Together:
 On September 11, Sweden will host Blockchain & Bitcoin Conference Stockholm organized by Smile-Expo – international coordinator of business events.
The conference will introduce various topics regarding blockchain and will drive attention to the most topical problems of the cryptocurrency market today.
Key speakers:[yasr_overall_rating]
One of the invited experts is the Member of Swedish Parliament Mathias Sundin who is involved in the Tax Committee and the Finance Committee. The specialist has co-founded a revolutionary technological organization Warp Institute and joined financial company Goobit. At the event, the speaker will analyse the power of decentralized systems, evaluating its long-term strenghts.
Head of Digital and Innovation at Landshypotek Bank Merete Salmeling will deliver the presentation, too. She will explain how DLT can be integrated into the real estate, and what advantages it brings.
President of Blockchain Alliance Europe Tanja Bivic Plankar will join the conference as well. Being an initial coin offerings expert, she will share knowledge about ICOs, describe recent innovations in the token sale sphere and talk about the regulatory framework.
Regulatory and legal challenges coming with innovations will also be discussed by Dr. Guenther Dobrauz-Saldapenna – Partner & Leader PwC Legal Switzerland. The speaker is a lawyer, VC investor, and banking specialist. He provides business consultations and has already written 10 books discovering innovative processes, money and technology.
See the full list of Key speakers here
Blockchain & Bitcoin Conference Stockholm is the second crypto event in Sweden carried out by Smile-Expo. The company has already held 40 successful crypto conferences in 25 countries.
Use an opportunity to meet leading DLT specialists, ask questions and learn new topical information about the blockchain industry at first hand at the conference!

Details of the event and registration are available on the official website of Blockchain & Bitcoin Conference Stockholm.
Go Visit the Blockchain & Bitcoin Conference Stockholm
Go Visit the Blockchain & Bitcoin Conference Stockholm
The Blockchain & Bitcoin Conference Stockholm is a highly anticipated crypto event in Sweden.  and is being held for the second time.
after the success of the first one they look to make this event a annual one.  since the crypto industry is going more and more out of the shadows and becomes more mainstream you will find that the quality of people involved also grows.
this is clearly displayed in the extensive list of speakers at this event.
Event goals:
bringing together the international business community in order to share their experience of integrating blockchain and cryptocurrencies; discussing blockchain industry issues and finding ways to solve them; encouraging a balanced growth of the cryptocurrency market.
Conference topics: 
blockchain in various sectors: energy industry, real property, newsmaking etc.
Legal regulation of the blockchain sector
token models and their application
ICO regulation.
Speakers:
the list of world-renowned blockchain experts, including government officials, foreign investors, entrepreneurs, lawyers, and developers is impressive and should get this event the notice it deserves.
who should not miss this Event :
investors, business people, lawyers, startup founders, and those aiming to launch a token sale.
why should not miss this Event :
:to receive full information with case studies about the blockchain application, to discover how to comply with the legal norms in the blockchain industry, to find business partners, and to enhance your brand awareness.
Prices of the Event
Standard ticket  – 240 EUR
Full access to all conference sessions
Access to demo area
Сoffee breaks
Speed networking
Student ticket – 121 EUR
Full access to all conference sessions
Access to demo area
Сoffee breaks
Speed networking
A valid student ID should be presented at check-in. No refunds on the day of the event.
---
Blockchain & Bitcoin Conference Stockholm is a part of the series of Blockchain World Events held in 25 countries. The organizer is Smile-Expo International Company.