EasyMarkets Demo Account Review for Practicing Trading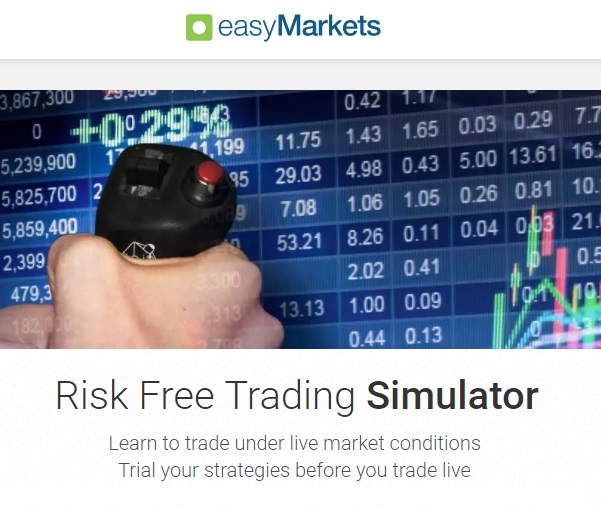 A 10+ Year Veteran of the Forex Market with a Strong Presence in Europe and Asia
One of the Few Brokers to Provide Guaranteed Stop Losses and Negative Balance Protection
Deep Product Coverage with CFDs on 95 Forex Pairs and Vanilla Forex Options on 23 pairs
Use Exclusive Tool Trade Controller More Effectively, Set Stop Loss and Profit Points For Your Trades
Personal Assistance with Trade Strategy and Order Execution from Dealing Room
stablished –2003
Domicile –Marshall Islands
Regulation –
Cyprus – CySEC (License Number 079/07), Australia – ASIC (AFSL 246566)
Restricted Jurisdictions –United States
Ownership –Privately Held
Segregated –Yes
Broker Type-Market Maker
Web Security –Verisign
Negative Balance Protection Policy –Yes
The EasyMarkets demo account review platform with a Demo account and experience simulated trading under live market conditions.
No obligations,
no cost
no risk.
Feel the thrill of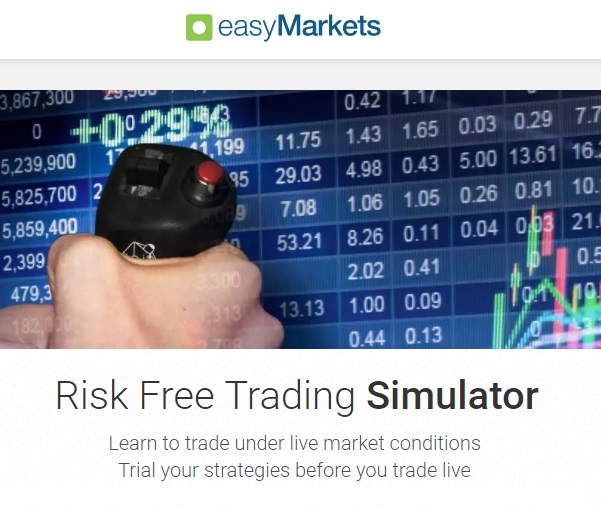 trading the world's markets, discover our trading platform and see for yourself just how easy we are.
this is the way to improve your techniques and professional traders to hone their skills. Try their trading simulator now for eight days. If you like them you can always open a live account, you'll also get your lifetime demo account to practice trading strategies before you open live deals
EasyMarkets Demo Account Review Trading Features
EasyMarkets guarantees trade execution at pre-set stop-loss and profit points.  EasyMarkets is able to offer this because of its time tested risk management systems and procedures.  Brokers who do not provide these protections may execute an order at a very different level than your stop levels (also known as slippage), causing you to have much greater losses than anticipated.  Please note that this guarantee is only available for trades placed via EasyMarkets 's web trading and mobile platform.
EasyMarkets is one of the few brokers with a negative balance protection policy.  Traders can incur a negative balance if the market gaps quickly and the broker is forced to close out open trades at a loss exceeding the account's equity.  While some brokers begrudgingly forgave negative balances after the CHF crisis on a one-off basis, EasyMarkets is one of the few brokers offer this protection at all times and include it in its terms of service.
This Broker has more in-depth coverage of the markets than most forex brokers.   It offers CFDs on 95 currency pairs, 16 commodities, and 15 indices.  However, its coverage isn't as broad as other brokers, some of which also offer CFDs on individual shares, bonds and ETFs.
EasyMarkets is one of the few forex brokers to offer vanilla forex options on the same platform.  This means you don't have to switch to a different platform or broker when you want to options.  You can also use the same pool of funds for your option trades.
This means you don't have to deal with  the hassle of transferring funds around and avoid withdrawal and deposit fees from other brokers.  EasyMarkets allows you to trade options on 23 currency pairs.  While there are no margin requirements for options, however, you will not be able to sell options unless you have an existing position in the underlying.
EasyMarkets offers up to 200:1 leverage on most currency pairs.  Automated trading available with Expert Advisors via Metatrader 4.
Market Analysis and Education
EasyMarkets provides a number of exclusive tools to help you optimize your trading.  The Inside Viewer allows you to see which are the most popularity traded currency pairs, the percentage of bullish / bearish traders, and the average stop losses and profit points on Easy-Forex.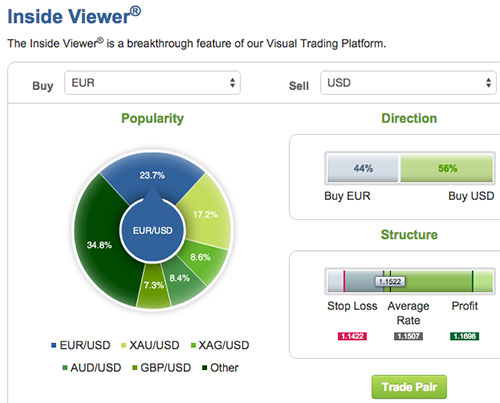 Trade Controller is a great tool which aids you in setting and modifying stop loss and profit points for your trades.  Its intuitive visual display allows to see profit / loss levels as both dollar amounts and exchange rates.
EasyMarkets demo account review
You are also given access to Reuters news feeds, exclusive fundamental analysis from EasyMarkets 's research team, and technical analysis from leading independent research firm, Trading Central.  You can set SMS alerts for fills on limit orders, trade closings, and exchange rate levels.
this Broker has a nice archive of educational articles, videos, and eBooks.  They also have a well maintained YouTube channel where they provide videos on timely topics in the forex markets.  EasyMarkets also hosts the occasional webinar and in person seminar.
easymarkets demo account review Trading Features
CFD's –Forex, Indices, commodities
Currency Pairs –95
Leverage –up to 200:1
Cryptocurrencies –No
Options –Forex Options
Trading Signals –Yes, Trading Central
Automated Trading –Yes
Social Trading –No
Phone Trading –No
easymarkets demo account review –  Trading Platforms
EasyMarkets demo account review Platforms 
Metatrader 4 (PC), Metatrader Multi-terminal (PC), EasyMarkets Web Trader (Browser), Metatrader 4 Mobile (iPhone, Android), EasyMarkets Mobile (iPhone, Blackberry)
Metatrader –Yes
Mac Software –No
Mobile Trading –Yes
easymarkets demo account review –  Customer Service
Online Support –Live chat and email
Phone Support –Yes
Multi-Lingual Support –Yes
Personal Account Manager –Dealing Desk Access for VIP accounts (USD 20,000 minimum deposit)
easymarkets demo account review –  Account Options
Minimum Initial Deposit –$25
Base Currencies –EUR, GBP, USD, CNY, AUD, PLN, ILS, ZAR, NOK, JPY
Minimum Lot Size –5,000
Account Types –Standard, Premium, VIP
Payment Options –Visa, Mastercard, Skrill, Bank Transfers
asy-Forex is a respected veteran of the forex industry with 10+ years operating history. Its parent company is a privately held company domiciled in the Marshall Islands. EasyMarkets has offices in major financial centers around the world including London, Shanghai, Limassol, Warsaw and Sydney.
EasyMarkets is currently regulated by CySEC in Cyprus and by ASIC in Australia. They previously held coveted US licenses but decided to withdraw in 2010 after regulatory capital requirements were increased twenty fold during the recent financial crisis.
Over its more than a decade long operating history, EasyMarkets has been subject to a few small regulatory fines from CySEC relating to its advertising practices in 2010 and compliances lapses in 2009. There is an Israeli class action lawsuit alleging that Easy Forex provided investment advice without proper licenses.  There was a similar suit in 2010 that was subsequently settled out of court.  Overall, there hasn't been regulatory action in recent years and the issues above didn't endanger client funds or integrity of EasyMarkets 's trading system.
Customer funds are held in segregated accounts in a number of reputable European banks and ANZ bank.  Online payments are secured by Verisign and EasyMarkets is subject to yearly audits by PriceWaterhouseCoopers.
Our Best Forex Demo Broker Reviews
Best Forex Demo Resources and usefull Links
Trading Forex, Stocks and CFDs carries risk and could result in the loss of your deposit, please trade wisely.
Dollar Correction may be Over or Nearly So
The redress in the capital markets started not long after the Federal Reserve climbed rates on December 14. The redress or consolidative stage takes after a generally solid drifting quarter, where moves quickened after the startling triumph by Trump. A week ago despite everything we foreseen the remedy could continue even after the January 4 US employments report indicated more profit development than anticipated. In any case, now after the extra misfortunes, the dollar seems prepared to turn.
Loan costs stay essential to our dollar account. It is not unintentional that the dollar's drawback move harmonized with a pullback in yields and a narrowing of the US premium. Financing costs might be the place to start our survey of the specialized standpoint.
The 10-year yield tumbled to about 2.30% on January 12, new lows since the finish of November, before recuperating to close at new session highs of 2.36%. Prior to the end of the week, and regardless of on the off chance that anything gentler PPI and disillusioning retail deals figures, the yield climbed another six premise point. The March note fates slowed down at 125-10. It attempted separate sessions sine January 6. Subsequent to falling flat for the third time before the end of the week, an auction guaranteed that brought the agreement toward the week's low of 124-07, which is additionally a 38.2% retracement of the increases since December 15. The half retracement is found at 123-28, and the 61.8% retracement is at 123-17.
The two-year yield crested on December 15 at 1.30%. It pulled back to close to 16 bp through January 12, when, similar to the 10-year take note of, the yield recuperated and saw finish increases in front of the end of the week. After five closes beneath the 20-day moving normal, the two yield shut above it (~1.21% )before the end of the week. The specialized tone of the March two-year note fates contract is decaying, which is additionally predictable with the consummation of the remedial stage.
The Dollar Index finished a 38.2% retracement of its additions since the US decision on January 12. The little picks up before the end of the week saw the RSI turn higher, while the MACDs and Slow Stochastics are preparing to cross higher also. A move over 102.00 would loan assurance to this view and recommend a retest on the January 11 high almost 103.00. On the drawback, a persuading break regarding 100.65 could goad a move to the following retracement level close to 99.80.
The technicals look assist far from handing over the euro than the Dollar Index. A move above $1.0710 could flag a further recuperation toward $1.0820. The euro has not shut underneath its five-day moving normal, (~1.0590) since January 3. A potential trendline drawn from the current year's lows comes in close $1.05 on January 16 and completions the week close $1.0575. An infringement of the five-day normal on an end premise or a break of the trendline would likely flag the upside amendment stage for the euro has run its course.
The dollar at first observed complete purchasing in Asia however Japan was on vacation, after the US business information. The greenback was floated from JPY117.00 to JPY117.50. In any case, it was welcomed with crisp offering that eventually drove the dollar to JPY113.75. The specialized markers we utilize have not turned, but rather they are getting extended. A move above JPY115.60 could flag a move in the JPY116.20-JPY116.80 band.
Sterling kept on exchanging intensely. It was the main major to lose ground against the dollar a week ago. Leader May's affirmation that the UK will lose single market get to sent sterling to $1.2040, its most reduced level since the glimmer crash last October. It figured out how to recoup to $1.2320 yet appeared to draw in merchants. While the five and 20-day moving midpoints cross for the euro and yen, they didn't have confidence in sterling. May talks again on January 17, however theory before the end of the week that the fall of the administration in Northern Ireland may postpone the activating of Article 50 helped sterling post restorative upticks. All things considered, it flopped again to complete the week above $1.22 which had been the lower end of its range since last October. All things considered, it is conceivable that the $1.2040 low is more solid than the value activity hitherto proposes. The value activity in coming days will clear up the specialized standpoint for conceivably whatever is left of the quarter.
The Canadian dollar expanded its late picks up with a surge around the center of a week ago that conveyed it to the best level and through its 200-day moving normal (CAD1.3100) without precedent for three months. The US dollar achieved CAD1.3030. The greenback immediately recouped into a more steady band amongst CAD1.31 and CAD1.32. The Bank of Canada meets in the week ahead. Late information has been valuable, incorporate work and exchange. The remarks around the stand-pat choice might be more energetic. The Slow Stochastics are ready to turn higher, trailed by the MACDs. The RSI is still overwhelming. A move above CAD1.3200 would settle the US dollar.
The Australian dollar rose 2.5% against the US dollar a week ago. Indeed, it climbed each day a week ago and in eight of the previous nine sessions. It the three-week propel, it has increased around 4.25%. On January 2, it exchanged down to practically $0.7165, and on January 12, it came to almost $0.7520. The high before the Fed's mid-December rate climb was $0.7525. The $0.7540 region compares to the 61.8% retracement of its misfortunes since the US race. The Australian dollar has not shut underneath its five-day moving normal (~$0.7425) since January 2. Lost this region could be a preparatory sign that the upside rectification is over. The Slow Stochastics look set to cross lower, and the MACDs have all the earmarks of being topping.
The dollar's ascent through MXN23.00 on January 11 may have finished a move. The MXN21.50 zone drew closer before the end of the week compares to the 38.2% retracement of the current year's dollar progress (~MXN21.40). The half retracement is close MXN21.30. The specialized pointers are extended. The apparently unusual tweets and a more extensive state of mind of the approaching US Administration deflect numerous from picking a base in the peso.
The February light sweet unrefined petroleum fates contract snapped a four-week progress with a 2.5% drop, in spite of reports proposing Saudi Arabia has cut more yield than it guaranteed. Cost snapped back rapidly from a push underneath $51 a barrel, and the most minimal level since the finish of November. The specialized markers caution of close term drawback chance, yet as it methodologies the base of the range, search for purchasing to reemerge. A move above $53.50 enhances the specialized tone.
The Dow Jones Industrials and the S&P 500 slipped bring down a week ago, while the NASDAQ attached on one percent. Notwithstanding this and the way that the Dow stays underneath the 20k mental level, the hidden tone stays firm. With the S&P 500 under 0.5% from its record, and Dow 20k still in view, there is no sign that value financial specialists are bothered by the absence of detail on assessment change, framework spending, and deregulation. Since the finish of November, the S&P 500 have been exchanging a saw tooth design; substituting weeks are progressing and declining. To augment the example, the S&P 500 needs to close higher one week from now A break of the 2250 territory would debilitate the market's specialized condition
The A to Z of Theresa May's Brexit as her Vision Speech Nears
For somebody who announced she'll give no "running analysis" on her Brexit arranges, U.K. Head administrator Theresa May has been very loquacious about Britain's pending withdrawal from the European Union.
Next Tuesday she is set to state much more as she conveys a discourse on her vision for the separation in the midst of mounting weight from legislators, speculators and administrators, both remote and residential, to substance out her expectations. Her comments will be nearly viewed by cash brokers, after the pound dove because of two of her most huge Brexit analyses.
Six months after she brought office and with under 11 weeks before her own particular due date for activating transactions with the EU, here are her most essential quotes on the key Brexit issues.
Hard or Soft? Not one or the other
It started July 11, with "Brexit implies Brexit – and will make an accomplishment of it" and it quickly turned into her catchphrase.
May has resolutely declined to take part in the verbal confrontation about whether it will be a "hard Brexit," which organizes migration controls, or "delicate Brexit," which shields exchange.
In December, she stated: "Individuals discuss the kind of Brexit that there will be – is it hard or delicate, is it dim or white. Really we need a red, white and blue Brexit: that is the privilege Brexit for the U.K., the correct arrangement for the U.K."
And after that, on Jan. 9: "I'm enticed to state that the general population who are missing the point are the individuals who print things saying 'I am discussing a hard Brexit; it's completely inescapable that it's a hard Brexit.' I don't acknowledge the terms hard and delicate Brexit."
The Single Market
The head administrator has declined to give a Yes or No reply on whether she needs to haul Britain out of the single market for products and enterprises. The 28 countries in the coalition are individuals from it, as are Norway, Iceland and Liechtenstein.
By the by, she gave her clearest flag yet on Jan. 8 that withdrawal might be the picked pathway when she told Sky News that "we mustn't consider this as by one means or another 'we're leaving participation, yet we need to keep bits of enrollment.' "
After a day, after the pound fell in light of those comments, she told columnists in London: "What we are doing will get a goal-oriented, great, most ideal arrangement as far as exchanging with and working inside the single European market."
While clergymen have said they are concentrate how different nations exchange with the EU, for example, Canada and Turkey, May has said she needs a "bespoke" relationship. "We ought to be driven by what is to the greatest advantage of the U.K. what's more, what will work for the European Union, not by the models that as of now exist," she said in July.
Traditions Union
May told Parliament's Liaison Committee in December that she doesn't see participation of the traditions union as a "paired choice." It incorporates Turkey and also the 28 EU individuals and sets no obligations on kindred individuals and a typical duty administration on imports from somewhere else. As a part, however, Britain can't arrange its own particular exchange bargains.
"There are various diverse perspectives to the traditions union, and there are various distinctive connections that as of now exist in connection to the traditions union, so this is more mind boggling than just saying: 'Are you in or are you out of the traditions union?"' she said.
May's production of a Department for International Trade and concentrate on fashioning new exchange joins post-Brexit recommends she might need to pull back from the traditions union. Her bureau is part as leaving would mean more organization and obligations for British organizations trading to the alliance.
Movement
May has reliably flagged that the capacity to control movement is a red line in her arrangements. "Give me a chance to be clear: we are not leaving the European Union just to surrender control of movement once more," she told delegates at the Tory Party gathering in October.
She hasn't faltered on the issue, telling Sky News this month that she expects to end the flexibility of development of individuals from the EU to Britain, which is one of the center standards of enrollment of the coalition.
"The submission vote was a vote in favor of us to change that opportunity of development, was a vote in favor of us to bring control into our migration framework for individuals originating from the European Union," she said.
Concerning what framework she may set up, she has discounted an Australian-style focuses framework in which outsiders fit the bill for section contingent upon aptitudes and request. "What the British individuals voted in favor of on June 23 was to bring some control into the development of individuals from the European Union to the U.K.," May said in September. "A focuses based framework does not give you that control."
"I need a framework where the legislature can choose who comes into the nation," she said. "I surmise that is the thing that the British individuals need."
European Courts
Recapturing power from EU courts is another red line for May.
"We are not leaving just to come back to the purview of the European Court of Justice," May told the Tory party gathering in October. "We will be a completely autonomous, sovereign nation, a nation that is no longer part of a political union with supranational foundations that can supersede national parliaments and courts."
She continued effectively expressing the idea.
"Our laws made not in Brussels but rather in Westminster," she said. "Our judges sitting not in Luxembourg but rather in courts over the land. The specialist of EU law in this nation finished until the end of time."
She wants to acquaint a bill this year with exchange all EU laws on to the British statute book with the goal of guaranteeing organizations have conviction about what's to come. Parliament will then be requested that cancelation the laws it couldn't care less for.
Move and Budget
May has flagged a transitional arrangement might be expected to overcome any issues between the day Britain leaves the EU and the start of an extensive post-separate exchange bargain.
"When we have the arrangement and the new game plans, there will obviously be a need for acclimation to those new courses of action, for usage of some useful changes that may need to happen in connection to that," she said in December. "That is the thing that business has been remarking on and contending for when, as you say, they utilize the expression about not having a bluff edge. They would prefer not to get up one morning, having had an arrangement concurred the prior night, and all of a sudden find that they need to do everything in an unexpected way."
On spending commitments, she has declined to preclude proceeding with installments as an end-result of market get to. "What's vital is that when we leave the European Union, it's the British government that chooses how citizens' cash is spent," May said a month ago.
EU Nationals
May says consenting to ensure the privileges of EU subjects presently living in Britain is a need for her, however is dependent upon proportional assurances for the privileges of Britons dwelling in the other 27 part states. She raised the issue at the European Council in December.
"I made it clear to the next EU pioneers that it remains my target that we give consolation right off the bat in the arrangements to EU nationals living in the U.K. what's more, U.K. residents living in EU nations that their entitlement to stay where they have made their homes will be ensured by our withdrawal," she told Parliament. "This is an issue that I might want to concur rapidly, however that unmistakably requires the assention of whatever is left of the EU."
Parliamentary Involvement
May concurred a month ago to a request from the resistance Labor Party that her arrangements ought to be liable to parliamentary examination before she triggers Brexit. The Supreme Court may yet drive her to hold a parliamentary vote on activating Brexit, with a choice due this month, after May claimed a High Court deciding that she should do as such.
With regards to administrators having an opportunity to talk about the last Brexit bargain, the chief declined three circumstances in declaration to the Liaison Committee to state whether she would give officials a vote.
"It is my goal to guarantee that Parliament has plentiful chance to remark on and talk about the parts of the courses of action that we are setting up," she told the board.
Resistance and Security
May told the Conservative meeting she needed the detachment understanding "to incorporate collaboration on law authorization and counter-fear based oppression work."
Scotland and Northern Ireland
May said she'll talk about with regressed organizations "how the plans will work where we need to take what is a structure right now set out in Brussels into the United Kingdom and perceive the diverse interests of the reverted organizations and the distinctive devolution bargains that are at present set up."
With respect to Northern Ireland and whether there should be an outskirt amongst it and the Republic of Ireland: " A ton of work is being done in the matter of how we can guarantee that the game plan for the development of products and individuals over that fringe is not an arrival to the hard outskirts of the past."
On sensitive U.S. stopover, Taiwan leader connects to Twitter
Taiwan President Tsai Ing-wen, cutting a cautious strategic way on her stopovers in the United States, went by the base camp of smaller scale informing administration Twitter Inc (TWTR.N) on Saturday and reactivated an old record.
"Had an awesome visit to @Twitter HQ today. Much thanks to you to @vijaya and group for indicating us around!" read her first tweet from her old record in more than two years. Beforehand she tweeted in Chinese.
There was clashing data before about whether she was opening another English record or restoring the old one.
A source at the meeting said Tsai met with Twitter General Counsel Vijaya Gadde and that CEO and fellow benefactor Jack Dorsey was not present.
Photos of the visit posted online demonstrated the president reactivating her nearness on the informing administration and posturing before the popular photograph that slammed Twitter – 2014 Oscars have Ellen DeGeneres' "selfie" with top Hollywood VIPs.
Tsai was coming back from seven days in length visit to Central America. In any case, it was her stopovers in the United States that raised more enthusiasm after President-elect Donald Trump said a month ago he would rethink the long-standing "one China" approach, whereby the United States recognizes the Chinese position that there is just a single China and that Taiwan is a piece of China.
He emphasized that probability in a meeting with the Wall Street Journal on Friday, seven days before his introduction. China reacted that the "one China" standard was the non-debatable political reason for China-U.S. relations.
Trump accepted a complimentary call from Tsai after his Nov. 8 triumph, starting shock from China, which trusts the Taiwanese pioneer needs to look for formal autonomy from the territory.
Tsai made a stopover in Houston on Jan. 7 and 8 preceding making a beeline for Central America and arrived Friday night in San Francisco on her way back home. She didn't seem to have met with any agents of the Trump group amid her short U.S. remains. In any case, in Houston last Sunday, she met with Republican U.S. Representative Ted Cruz and Texas Governor Greg Abbott and started more anger in Beijing.
China had asked the United States not to permit Tsai to enter or have formal government gatherings under the one China arrangement.
Cruz was pointed in his feedback of the Chinese, saying they expected to "comprehend that in America we settle on choices about meeting with guests for ourselves."
Beijing sees self as overseeing Taiwan a rebel area ineligible for state-to-state relations. The subject is a touchy one for China.
More than a hundred people were assembled outside the Hyatt Regency close San Francisco International Airport, some to challenge and some to bolster the president.
Tsai twisted up her outing with a lunch for 800 individuals from the Taiwanese people group before her booked takeoff for Taiwan toward the evening.