EasyMarkets Demo Account Review for Practicing Trading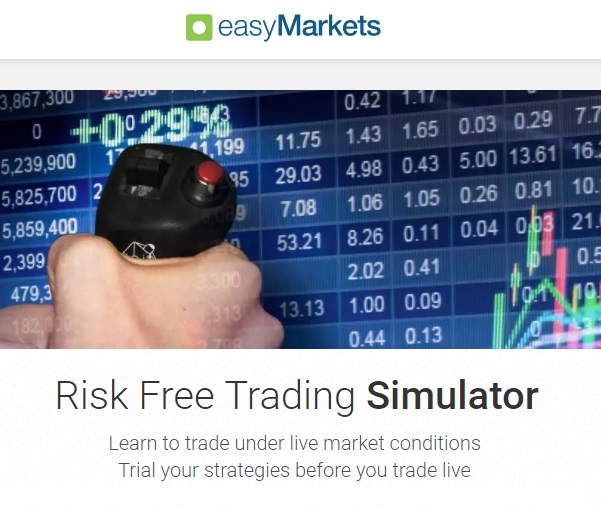 A 10+ Year Veteran of the Forex Market with a Strong Presence in Europe and Asia
One of the Few Brokers to Provide Guaranteed Stop Losses and Negative Balance Protection
Deep Product Coverage with CFDs on 95 Forex Pairs and Vanilla Forex Options on 23 pairs
Use Exclusive Tool Trade Controller More Effectively, Set Stop Loss and Profit Points For Your Trades
Personal Assistance with Trade Strategy and Order Execution from Dealing Room
stablished –2003
Domicile –Marshall Islands
Regulation –
Cyprus – CySEC (License Number 079/07), Australia – ASIC (AFSL 246566)
Restricted Jurisdictions –United States
Ownership –Privately Held
Segregated –Yes
Broker Type-Market Maker
Web Security –Verisign
Negative Balance Protection Policy –Yes
The EasyMarkets demo account review platform with a Demo account and experience simulated trading under live market conditions.
No obligations,
no cost
no risk.
Feel the thrill of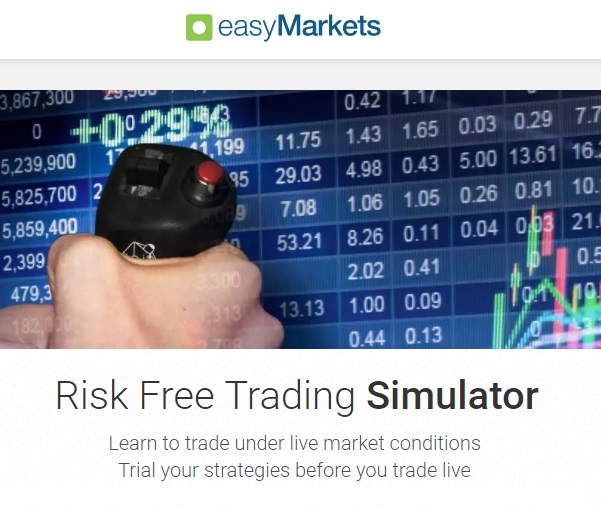 trading the world's markets, discover our trading platform and see for yourself just how easy we are.
this is the way to improve your techniques and professional traders to hone their skills. Try their trading simulator now for eight days. If you like them you can always open a live account, you'll also get your lifetime demo account to practice trading strategies before you open live deals
EasyMarkets Demo Account Review Trading Features
EasyMarkets guarantees trade execution at pre-set stop-loss and profit points.  EasyMarkets is able to offer this because of its time tested risk management systems and procedures.  Brokers who do not provide these protections may execute an order at a very different level than your stop levels (also known as slippage), causing you to have much greater losses than anticipated.  Please note that this guarantee is only available for trades placed via EasyMarkets 's web trading and mobile platform.
EasyMarkets is one of the few brokers with a negative balance protection policy.  Traders can incur a negative balance if the market gaps quickly and the broker is forced to close out open trades at a loss exceeding the account's equity.  While some brokers begrudgingly forgave negative balances after the CHF crisis on a one-off basis, EasyMarkets is one of the few brokers offer this protection at all times and include it in its terms of service.
This Broker has more in-depth coverage of the markets than most forex brokers.   It offers CFDs on 95 currency pairs, 16 commodities, and 15 indices.  However, its coverage isn't as broad as other brokers, some of which also offer CFDs on individual shares, bonds and ETFs.
EasyMarkets is one of the few forex brokers to offer vanilla forex options on the same platform.  This means you don't have to switch to a different platform or broker when you want to options.  You can also use the same pool of funds for your option trades.
This means you don't have to deal with  the hassle of transferring funds around and avoid withdrawal and deposit fees from other brokers.  EasyMarkets allows you to trade options on 23 currency pairs.  While there are no margin requirements for options, however, you will not be able to sell options unless you have an existing position in the underlying.
EasyMarkets offers up to 200:1 leverage on most currency pairs.  Automated trading available with Expert Advisors via Metatrader 4.
Market Analysis and Education
EasyMarkets provides a number of exclusive tools to help you optimize your trading.  The Inside Viewer allows you to see which are the most popularity traded currency pairs, the percentage of bullish / bearish traders, and the average stop losses and profit points on Easy-Forex.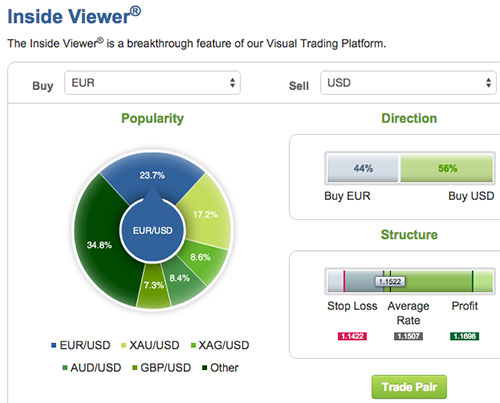 Trade Controller is a great tool which aids you in setting and modifying stop loss and profit points for your trades.  Its intuitive visual display allows to see profit / loss levels as both dollar amounts and exchange rates.
EasyMarkets demo account review
You are also given access to Reuters news feeds, exclusive fundamental analysis from EasyMarkets 's research team, and technical analysis from leading independent research firm, Trading Central.  You can set SMS alerts for fills on limit orders, trade closings, and exchange rate levels.
this Broker has a nice archive of educational articles, videos, and eBooks.  They also have a well maintained YouTube channel where they provide videos on timely topics in the forex markets.  EasyMarkets also hosts the occasional webinar and in person seminar.
easymarkets demo account review Trading Features
CFD's –Forex, Indices, commodities
Currency Pairs –95
Leverage –up to 200:1
Cryptocurrencies –No
Options –Forex Options
Trading Signals –Yes, Trading Central
Automated Trading –Yes
Social Trading –No
Phone Trading –No
easymarkets demo account review –  Trading Platforms
EasyMarkets demo account review Platforms 
Metatrader 4 (PC), Metatrader Multi-terminal (PC), EasyMarkets Web Trader (Browser), Metatrader 4 Mobile (iPhone, Android), EasyMarkets Mobile (iPhone, Blackberry)
Metatrader –Yes
Mac Software –No
Mobile Trading –Yes
easymarkets demo account review –  Customer Service
Online Support –Live chat and email
Phone Support –Yes
Multi-Lingual Support –Yes
Personal Account Manager –Dealing Desk Access for VIP accounts (USD 20,000 minimum deposit)
easymarkets demo account review –  Account Options
Minimum Initial Deposit –$25
Base Currencies –EUR, GBP, USD, CNY, AUD, PLN, ILS, ZAR, NOK, JPY
Minimum Lot Size –5,000
Account Types –Standard, Premium, VIP
Payment Options –Visa, Mastercard, Skrill, Bank Transfers
asy-Forex is a respected veteran of the forex industry with 10+ years operating history. Its parent company is a privately held company domiciled in the Marshall Islands. EasyMarkets has offices in major financial centers around the world including London, Shanghai, Limassol, Warsaw and Sydney.
EasyMarkets is currently regulated by CySEC in Cyprus and by ASIC in Australia. They previously held coveted US licenses but decided to withdraw in 2010 after regulatory capital requirements were increased twenty fold during the recent financial crisis.
Over its more than a decade long operating history, EasyMarkets has been subject to a few small regulatory fines from CySEC relating to its advertising practices in 2010 and compliances lapses in 2009. There is an Israeli class action lawsuit alleging that Easy Forex provided investment advice without proper licenses.  There was a similar suit in 2010 that was subsequently settled out of court.  Overall, there hasn't been regulatory action in recent years and the issues above didn't endanger client funds or integrity of EasyMarkets 's trading system.
Customer funds are held in segregated accounts in a number of reputable European banks and ANZ bank.  Online payments are secured by Verisign and EasyMarkets is subject to yearly audits by PriceWaterhouseCoopers.
Our Best Forex Demo Broker Reviews
Best Forex Demo Resources and usefull Links
Trading Forex, Stocks and CFDs carries risk and could result in the loss of your deposit, please trade wisely.
Online Trading platform SIRIX
SIRIX|  Online Trading platform SIRIX Review
[yasr_overall_rating]
Everyone that has been trading for some time has most likely traded on the metatrader 4 trading platform of metaquotes. This has been the standard in the industry for the last couple of years.
But more and more brokers Like CMSTrader and UBCFX are offering alternatives that might suite certain traders even better then the MT4 as they have a lower learning curve and are designed more intuitive.
One of these platforms is the Sirix Trading Platform.
The Sirix Trading platform is
Sirix, a fully packed trading software with numerous with numerous options and special indicators that are designed by the software company to present you with a personalized trading experience.
Positive features and benefits of the Sirix Trading Platform
• Ease of Use: if you are a trader you will be able to access your Sirix trading platform and see all your trades and other information at any place and time. The Web-trader is a fully function trading platform that does not require you to do any download. This has more or less become the norm of the industry and if you for example take the Sirix Trading platform of LegacyFX you will be able to have a download desktop version, a web version and a mobile version.
these in general all have the same functionalities but of course is the mobile version a bit more limited due to the smaller screen real estate.
• Indicators and Options: this platform provides build I more than 50 Indicators which for most traders is over kill but it does allow most traders to find the right indications to match their trading behavior and trading strategies.
The Charting Package that Sirix provides is easy enough to understand and gives you as a trader all the information you need, there are different time frames that in combination with the ability to display lines and annotations make this platform feel like it is designed for you.
• Social Trading: Sirix has a full feature social trading module that allows you to watch the trades of others which might give you new insights and trading ideas. If you come a across a trader that is particular successful you are able to copy that traders' trades and create a full automated copy trader,
You as the trader are still in charge and you have the option to trade with lesser or higher amount then the trader you are copying.
In order to use the social trading, you have to open an account with their social trading community.
This can only be done by using a nickname an order to protect you identity. When you are part of the community then you are part of all the brokers that offer this feature to their traders. Meaning you are able to follow a trader that is trading with 12trader while you are trading with account from UBCFX or any other broker that has Sirix.
Now I have to mention that if you look to only trade social then the Etoro Platform is still a better solution s this system is built only for social trading and they have pretty much defined the concept.
---
Sirix Crypto Trading Platform
this is the latest platform that was launched by Leverate.
it focuses , just like the name says more n the trading of cryptocurrencies.
as this company understands that this is the direction where the market is going and more and more traders are asking for trading in Bitcoin or ripple trading to just name a few they have added this feature to the Sirix Platform , this means that every broker that has the sirix trading platform is in theory able to offer trading in cryptocurrencies.
in addition they have launched also a platform that is only trading cryptocurrencies but that will be another review as i have yet to see and play with this system
---
Conclusion
The Software company Leverate has created a very user friendly platform with inbuilt social trading and news functionality. When they launched this platform in 2012 it was already a good platform but today it rivals the best of them easily.
The Intuitive aspect of this platform is one of the key features and makes the threshold of trading lower for newbies. There is also a fastn amount of Sirix Tutorials out there that will help even the total beginners with the Sirix Platform
Now of the traders that need bots and more indicators then there sis still nothing that beats the metatrader 4 trading platform but for many traders Sirix offers more then enough and makes the trading experience easier then with MT4.
More and more brokers are offering this alongside their other trading platform so you as a trader will come across more and more brokers that have the Sirix Trading platform in their arsenal.
These are some of the Best Broker for trading on Sirix
Who Will Speak at Blockchain & Bitcoin Conference Stockholm?
Who Will Speak at Blockchain & Bitcoin Conference Stockholm?
Bringing DLT Specialists Together:
 On September 11, Sweden will host Blockchain & Bitcoin Conference Stockholm organized by Smile-Expo – international coordinator of business events.
The conference will introduce various topics regarding blockchain and will drive attention to the most topical problems of the cryptocurrency market today.
Key speakers:[yasr_overall_rating]
One of the invited experts is the Member of Swedish Parliament Mathias Sundin who is involved in the Tax Committee and the Finance Committee. The specialist has co-founded a revolutionary technological organization Warp Institute and joined financial company Goobit. At the event, the speaker will analyse the power of decentralized systems, evaluating its long-term strenghts.
Head of Digital and Innovation at Landshypotek Bank Merete Salmeling will deliver the presentation, too. She will explain how DLT can be integrated into the real estate, and what advantages it brings.
President of Blockchain Alliance Europe Tanja Bivic Plankar will join the conference as well. Being an initial coin offerings expert, she will share knowledge about ICOs, describe recent innovations in the token sale sphere and talk about the regulatory framework.
Regulatory and legal challenges coming with innovations will also be discussed by Dr. Guenther Dobrauz-Saldapenna – Partner & Leader PwC Legal Switzerland. The speaker is a lawyer, VC investor, and banking specialist. He provides business consultations and has already written 10 books discovering innovative processes, money and technology.
See the full list of Key speakers here
Blockchain & Bitcoin Conference Stockholm is the second crypto event in Sweden carried out by Smile-Expo. The company has already held 40 successful crypto conferences in 25 countries.
Use an opportunity to meet leading DLT specialists, ask questions and learn new topical information about the blockchain industry at first hand at the conference!

Details of the event and registration are available on the official website of Blockchain & Bitcoin Conference Stockholm.
Go Visit the Blockchain & Bitcoin Conference Stockholm
Go Visit the Blockchain & Bitcoin Conference Stockholm
The Blockchain & Bitcoin Conference Stockholm is a highly anticipated crypto event in Sweden.  and is being held for the second time.
after the success of the first one they look to make this event a annual one.  since the crypto industry is going more and more out of the shadows and becomes more mainstream you will find that the quality of people involved also grows.
this is clearly displayed in the extensive list of speakers at this event.
Event goals:
bringing together the international business community in order to share their experience of integrating blockchain and cryptocurrencies; discussing blockchain industry issues and finding ways to solve them; encouraging a balanced growth of the cryptocurrency market.
Conference topics: 
blockchain in various sectors: energy industry, real property, newsmaking etc.
Legal regulation of the blockchain sector
token models and their application
ICO regulation.
Speakers:
the list of world-renowned blockchain experts, including government officials, foreign investors, entrepreneurs, lawyers, and developers is impressive and should get this event the notice it deserves.
who should not miss this Event :
investors, business people, lawyers, startup founders, and those aiming to launch a token sale.
why should not miss this Event :
:to receive full information with case studies about the blockchain application, to discover how to comply with the legal norms in the blockchain industry, to find business partners, and to enhance your brand awareness.
Prices of the Event
Standard ticket  – 240 EUR
Full access to all conference sessions
Access to demo area
Сoffee breaks
Speed networking
Student ticket – 121 EUR
Full access to all conference sessions
Access to demo area
Сoffee breaks
Speed networking
A valid student ID should be presented at check-in. No refunds on the day of the event.
---
Blockchain & Bitcoin Conference Stockholm is a part of the series of Blockchain World Events held in 25 countries. The organizer is Smile-Expo International Company.