Beginner's Guide to Forex.com Review 2019 – Is it Safe? Pros & Cons
Forex.com has a great deal of experience in the global currency markets, having been founded in 2001. The broker is a global market leader that prides itself on providing traders with superior execution and offers competitive, transparent pricing and a wide range of tools to help them succeed.
Forex.com has a great deal of experience in the global currency markets, having been founded in 2001. The broker is a global market leader that prides itself on providing traders with superior execution and offers competitive, transparent pricing and a wide range of tools to help them succeed.
Risk Warning: CFDs are complex instruments and come with a high risk of losing money rapidly due to leverage. 72% of retail investor accounts lose money when trading CFDs with this provider. You should consider whether you understand how CFDs work and whether you can afford to take the high risk of losing your money.
The parent company of Forex.com is GAIN Capital Holdings Inc., which is listed on the New York Stock Exchange as GCAP. GAIN Capital is publicly traded and meets the highest available standards of financial reporting, disclosure, and corporate governance. To get an idea of the size and reputability of GAIN Capital, consider the company's key financial data for Q2 2018. There were total assets of $1.475 billion, a total customer equity of $920.4 million, an available liquidity of $344.3 million, and a minimum regulatory capital requirement of $108.9 million.
The founding of GAIN Capital took place in 1999 with the mission of giving traders low-cost access to the foreign exchange markets. Now, the company provides more than 140,000 institutional and retail investors access to exchange-traded and OTC markets, with clients in 140 countries. In addition to Forex.com, GAIN Capital is the parent company of City Index. It also has a futures group that delivers access to the major derivative and commodity trading on more than 30 global exchanges. The headquarters of GAIN Capital is in Bedminster, New Jersey, and the company has more than 800 staff members in the Asia Pacific, North America, and Europe.
Forex.com Advantages
Forex.com prides itself on operating in an environment that is highly regulated and includes strong oversight into both trading practices and execution. Forex.com will not adjust the execution speed or price of trades. This forex broker also never picks and chooses which trades to accept. All trades are executed accurately and quickly.
Additionally, Forex.com stands behind all its trades. The broker is a market maker, so it does not outsource the responsibility to a third party. Instead, Forex.com will directly address any concerns or questions following a trade directly.
Forex.com Account Signup

To open an account with Forex.com, simply fill out the form online. You will need to submit a valid, nonexpired photo ID that was issued by the government. This will be used to confirm the residential address, date of birth, and name listed on the application. If the ID you submit does not provide residential address verification, you will need to submit a separate document as proof of residence, such as a bank statement, utility bill, or credit card statement from the past six months. The simplest method of submitting these documents is to upload them via the website. Alternatively, you can mail or email your documents. In the case of a joint account, you need to submit the required documentation for each account holder.
To open an account, Forex.com requires a minimum deposit of a minimum of 50 units of your base currency. However, it suggests depositing a minimum of 2,500 units, so you can have better risk management and flexibility.
What Types of Accounts Does Forex.com Offer?
To appeal to a range of traders, Forex.com offers two main account types. Standard Accounts deliver ultra-competitive spreads without any commissions on forex trades. The cost of the trade is already part of the spread. The other option is a Commission Account, which delivers the tightest forex spreads offered. This includes EUR/USD from 0.2 plus a commission of just $5 for each 100,000 on forex trades. It is important to note that this latter account is not currently available for use on MetaTrader, so if you opt for a Commission Account, you will need to use the Forex.com platform instead. However, it will be available with MetaTrader soon.
Once you open a Standard Account, you cannot change it to a Commission Account or vice versa. However, if you already have a Commission Account or Standard Account and wish to open an account of the other type, you can do so. You should also note that while there are no demos available for Commission Accounts, you can become an Active Trader with a Commission Account.
Forex.com Demo Accounts
As with most brokers, Forex.com does offer a demo account. The main difference between this and a live trading account is that there is no risk associated with trading in a demo account since you use virtual currency. The demo or practice accounts are designed to help you become familiar with the types of trading offered on Forex.com, as well as the platform and trading tools.
Demo accounts last for a full 30 days following your signup, giving you more than enough time to hone your skills. At the moment, Forex.com does not offer the option of renewing a demo account, something which some competitors do.
Account Deposits & Withdrawals
Forex.com offers several funding options for accounts. You can use a credit or debit card or opt for a wire transfer. Withdrawals are done via the same method as funding due to legal regulations.
Forex.com Asset Coverage

Forex.com provides clients with access to currencies, Cryptocurrencies, shares, equity indices, metals, and commodities. Those who opt to use the proprietary Forex.com trading platform get access to 84 currencies, 220+ shares, 17 equity indices, 10 metals, and 11 commodities. Those using MetaTrader 4 will not have access to shares. However, they also will have access to 84 currencies, 17 equity indices, and 10 metals, with the number of commodities reducing to seven.
Additionally, Forex.com offers Bitcoin trading, with the ability to trade against USD, AUD, EUR, and GBP. You can go long on fractional Bitcoin in 0.1 increments, and this method lets you speculate on Bitcoin volatility without having to own the cryptocurrency.
The margins available on Forex.com are up to 200:1, depending on the market that you are trading. The minimum trade size is 1,000 units.
What Platforms Does Forex.com Offer?
To appeal to all trading styles, Forex.com offers several different trading platforms for clients to choose from. The proprietary platform from Forex.com is award-winning and has been optimized to appeal to forex traders. It delivers high performance and advanced tools and is available as a mobile application for Android or iOS, as a browser-based interface, or as a desktop application.
Alternatively, traders on Forex.com can use MetaTrader 4. Forex.com is not only one of many brokers to use MT4 but also the largest MT4 broker based on active MetaTrader servers for each broker. Forex.com's MT4 is fully optimized to include automated order rules, exclusive commentary and research from Forex.com, and advanced order functionality. It only takes a single download and is always in sync and fully loaded.
The Forex.com Trading Platform
There are three versions of the proprietary Forex.com trading platform. The advanced trading desktop platform is ideal for serious traders who have expertise and want sophisticated analytic tools and trading features. This platform includes dashboards that are highly customizable and the ability to set your trade preferences. There are also powerful charting tools and extensive drawing tools. The advanced trading platform also has advanced analytic tools with integrated trading strategies that include hundreds of predefined indicators you can use. Alternatively, you can create your own indicators. Toggle as well as zoom between 15 different time frames.
There are also more than 100 templates that you can choose from for trading strategies integrated right into the platform, with the ability to create your own or customize a different one. The Development Studio supports Visual Basic, .NET, and C#. Enjoy multiple order types, including advanced orders, like guaranteed stop loss orders or trailing stop orders. This platform also includes hedging tools, partial close functionality, integration of FX trade signals, trained market strategist, and market analysis.
The web platform has been optimized to maximize speed, reliability, and performance across browsers. It also includes integrated trading tools as well as analysis and market commentary. There are more than 50 drawing tools, more than 70 technical indicators, and advanced charting features. The web platform from Forex.com allows for seamless account management, including funding and withdrawal. You can enjoy layout personalization and smart trade tickets that let you set orders based on pips, price, or P&L and view figures at a glance.
Finally, the mobile trading platform delivers the full trading experience, including the ability to use multiple order types. This application integrates the analysis, market commentary, and news. It also features real-time alerts as well as notifications. You still get the advanced analysis and charting tools, as well as advanced risk management options and integrated fund management.
MetaTrader 4 Platform
The other platform offered by Forex.com is MetaTrader 4, which is among the most popular trading platforms in the world. As such, it is easy to find support and more information on this trading platform. Trading with Forex.com on MetaTrader 4 gives you access to the largest MT4 broker in the world, so you can enjoy unique trader tools, exceptional trade executions, ultra-tight spreads, and a trusted broker.
In addition to the features of the standard MetaTrader 4 platform, those with Forex.com accounts also get fully integrated research from Forex.com, news from Reuters, Autochartist Trade Ideas, account management tools, and technical analysis from Trading Central. Other exclusives to Forex.com is the ability to get a cash rebate of up to 15 percent each month, as well as waived bank wire fees.
This platform even includes free VPS hosting for qualified customers. To qualify for free EA Hosting, you must keep at least $5,000 in your account and execute a minimum of 10 round-trip mini-lots or the equivalent each calendar month. This hosting is done on a secure professional server and is specifically for hosting Expert Advisors. This feature makes it possible to maximize uptime when you run your EA 24/6 in trading hours since they run on a dedicated Unix server. Other Forex.com-exclusives on MT4 include as much as 1.5 percent APY on the average daily available margin and one-on-one support from trained market strategists.
The MT4 platform delivers real-time account data without any third-party bridges. It also supports the use of all expert advisors in an EA-optimized environment that does not rely on auto sync or third-party bridges and offers micro lots (1,000). MetaTrader 4 includes support for multiple devices, including tablets and smartphones from Apple, Android, and Windows.
Quick Trade Executions
Forex.com claims to be a leader in terms of trade execution, and this online broker has the statistics to back it up. In January 2011, Forex.com was the very first broker to introduce their Execution Scorecard. It is still the only U.S. broker that discloses its execution quality, a level of transparency you will not find from competitors.
Sharing this data is important to Forex.com, as the broker understands that fast trade execution directly affects the success of clients and always strives to deliver the best possible experience. Impressively, 99.34 percent of trades on Forex.com are executed in less than one second, a figure that includes all instant execution and market orders. The average execution speed is just 0.06 seconds, which counts the time between the receipt of the market order and its execution. Additionally, 99.98 percent of all trades have been successfully executed, including valid market, limit, stop, and instant execution orders.
In addition to displaying the statistics related to execution, Forex.com has done what it can to automate trading to deliver lightning-fast trades that deliver the price that you expect to get or a better one. For limit orders, 52.82 percent of orders are executed at a price that is better than the one requested by traders. One-hundred percent of limit orders are executed at either the requested rate or better. The average improvement for each limit order is 1.06 pips, which is the difference between the requested price and the one that was executed on limit orders where the price improved. This figure does not include situations when the same account placed multiple limit orders at the same price for the same instrument.
Forex.com Fees
Forex.com always aims to ensure its pricing is competitive and clear without any small print or complicated schemes. The broker has spent over a decade working to create a network of partners with liquidity and invest in technology, which has led to it being able to offer tight spreads for most market conditions. This goes along with the quick execution that Forex.com offers, as the broker always executes trades as quickly as possible at the price clients expect or a better price.
Forex.com prides itself on offering accurate, fast pricing. Since every part of the trade process is automated, trades get executed as quickly as possible, either at the price you choose or one that is better. The technology will also automatically pass savings to you if the market moves in favor of your trade on a limit order, executing your trade at an improved price.
Instead of charging a commission, Forex.com makes its profit via spreads, which you can find listed on its pricing page. For each currency pair, you can view the minimum spread, typical spread, and percentage that margins are from. For EUR/USD, the minimum spread is 1, with a typical spread of 1.3 and margins from 0.5 percent.
For indices, you can view that the spread pricing is fixed for most, then view the minimum spread, trading hours, and percent that the margin is from. As an example, the Australia 200 CFD has a fixed spread of 1 point with margins from 0.50 percent and the market open 24 hours with breaks. Pricing for shares displays the spread, commission, and margin. For FTSE 100 Shares, for example, the spread is the market with a commission of 0.1 percent at a minimum of 10 Euro and margins from 4 percent.
Commodities display spread pricing, typical spread, and the percentage margins are from. For US Natural Gas, for example, the spread pricing is variable around the market spread with a typical spread of 18 and margin from 3 percent. The same information is available for each metal, with the example of copper being variable around the market spread with a spread of 40 and margin of 1 percent.
Forex.com Rollover Rates
When you hold positions overnight, it is important to consider rollover rates, as they can impact the bottom line. Forex.com's roll rates are among the most competitive in the industry. This lets the broker maintain rollover costs that are as low as possible when paying on the rollover, which maximizes the credit when earning on the rollover.
From the standpoint of the trader, this means that you can get the most competitive rollover rates within the industry. Additionally, you will always be aware of how much you will pay and earn since the rollover rates are clearly labeled on the platform. To see a rollover rate from the advanced desktop platform, just click on the "i" icon for the particular market.
Forex.com Active Traders
The Forex.com Active Trader program is designed for currency traders who trade high volumes. These traders receive reduced trading costs by as much as 15 percent thanks to cash rebates. Those rebates are as much as $10 for each million traded. These traders also receive reimbursement on the bank fees from wire transfers. They also get one-on-one support from a Market Strategist with experience. To round it all out, Active Traders get VIP access, including previews of products and invitations to exclusive events. Qualifying for the Active Trader program occurs automatically upon opening an account with at least $25,000 or trading a volume of $25 million in a single calendar month.
The cash rebates are divided into five levels depending on the monthly trade volume, with rebates per million ranging from $3 to $10, leading to the average savings of 4 percent to 15 percent. Cash rebates get credited to the account when the following month starts.
Forex.com Trading Tools
Forex.com offers a range of complex and simple order types with top reliability and execution. There is also professional charting using the Forex.com customizable indicators and drawing tools. You can even trade directly from the charts. The platform integrates analysis, trade ideas, and news, so you can enjoy actionable insights.
The Forex.com proprietary platform includes integration with advanced analysis tools, including automated analysis from Recognia, Faraday, and Autochartist.
The use of Autochartist automated scanning tools includes a curated list of the trading opportunities that have the highest chance of success, a feed of current patterns in your traded markets as well as predictions, and volatility analysis.
Recognia Technical Analysis is visible via a portal, displaying short-term trade ideas that include resistance and support levels, pivot points, the reasoning for the trade, and alternatives if something changes.
The Faraday Research tools look at forex markets to send you short-term trading opportunities. This includes daily emails with specific exit and entry points as well as the reasoning for a trade, an integrated portal on the Forex.com desktop platform, and real-time push notifications on the app.
If you wish, qualifying customers can also work with a one-on-one highly trained market strategist. Together, you will create a trading plan to meet your needs. These market strategists give you personalized demonstrations of the various advanced trading and charting tools, as well as teach you how to use fundamental and technical analysis, so you can make an informed decision. With ongoing support, they help you improve your trading performance. Forex.com also offers market analysis via its website, so you can see the latest relevant news and how it will affect the market as well as analysis of specific markets.
Market Analysis
Forex.com has a section of its website for market analysis, which includes several subsections. The main page is for the latest research, which will show you top stories, news, and analysis related to trading. There is also an economic calendar in this section, with the ability to filter out events based on various factors. The calendar displays each event; its time; the country/currency affected; and the values for actual, consensus, and previous, as well as whether it is high, medium, or low.
You also will find live trading sessions in the market analysis section. These include 30-minute webinars led by the Forex.com global analysts. They include real-time insights, market commentary, actionable trade ideas, and live Q&A sessions. These are quite simple to join, as you just fill out the registration form on the relevant page of the website.
API Trading
To remain competitive, Forex.com offers API trading via its REST API. This API delivers access to live streaming prices, as well as advanced order types and trade execution. It also allows for access to more than 180 of the markets that are most traded in the world. The REST API includes full developer resources and access to the full range of currencies, commodities, Bitcoin, and shares. Use algorithms and trading systems to execute trades as well as orders.
The REST API includes automated trading strategies, so you can execute trades as well as a range of orders with live streaming prices using your trading systems or own algorithms. It also allows for integrated account management, including viewing your account balance, active current orders, the available margin, the open positions, and even your historical trades, all in real-time. The API additionally includes charting and analysis thanks to historical market data.
To round out all the features, the Forex.com API is highly compatible. You can code against the API via any programming language that is network accessible, such as VB.NET, C++, Python, and Perl-script.
To use the Forex.com API, open a Forex.com account and contact the customer service team to request access to the API. From there, you can directly connect to the REST API for developing, testing, and automating trading strategies. There is also plenty of support for the API, including a documentation portal with support tools and sample code, plus an API Member Support Forum.
Alternatively, Forex.com also has a FIX API that is designed for institutions that want their customers to have access to the Forex.com liquidity and markets.
Introducing Brokers Program
As with many competitors, Forex.com offers an introducing brokers program. Those who introduce qualified customers to the broker will earn money as those new customers trade. There are several compensation models to choose from, each of which is generous. There is also a simple-to-use partner portal that makes tracking your growth intuitive.
Education Resources
Forex.com offers a vast section of educational resources for traders of all skill levels. On the education resources page, you can find a quiz that helps you determine the type of trader you are. Based on that information, you can view topics that are relevant to you. Alternatively, you can click on your experience level, either beginner, intermediate, or advanced. This will take you to specific educational resources based on your experience level.
Yet another choice is to browse the educational resources by trading topics. These include managing risk, trading concepts and strategies, technical and fundamental analysis, and platform tutorials for Forex.com and MetaTrader. Each of those topics has dozens of individual articles to help traders understand the concepts involved, such as "Introduction to Order Types" and "13 Characteristics of a Successful Trader."
Forex.com Customer Support
Forex.com offers multiple methods of contacting its customer support team. There is the choice to chat with customer support at the top of any page on the website. You can also find customer support email addresses and phone numbers, both for client support and account opening.
What Is the New Forex.com?
In mid-September 2018, Forex.com updated its service to add new markets, new powerful platforms, and other updates. This led to the addition of cryptocurrencies and shares. With those updates, Forex.com added the active trader program and expanded the market offerings. It added the advanced desktop trading platform, as well as the mobile apps for improved reliability and speed. Those who opened an account before July 13, 2018, had their accounts automatically transferred over to the improved service. Forex.com offers more information on the updates to the platform and offerings in its support section.
Competitors
Forex.com is in competition with our similar brokers which have covered before, as follows:
Forex.com Licenses & Regulations

The Cayman Islands Monetary Authority (CIMA) regulates Forex.com under the Cayman Islands' Securities Investment Business Law. Via Forex.com affiliates, the company is also regulated in six additional jurisdictions around the world. The other regulators of Forex.com affiliates include the Financial Conduct Authority (FCA) in the UK, the Financial Services Authority (FSA) in Japan, the Commodity Futures Trading Commission (CFTC) in the U.S., Australian Services and Investments Commission (ASIC), and Investment Industry Regulatory Organization of Canada (IIROC) in Canada. The Forex.com affiliate is also a member of the National Futures Association (NFA) within the U.S.
Is Forex.com Safe?

Forex.com follows the high standards that are required by the various organizations that regulate and license the broker. Additionally, the broker keeps customer deposit separate from operating funds. For further protection, these funds are distributed across the broker's global network made up of custodian banks. All money is held in top-tier banks. There are trust letters in place that ensure the client funds always remain segregated from bank assets. The company also enforces robust bank monitoring and review guidelines set by GAIN Capital Holdings Inc.'s Risk Committee. To round it all up, Forex.com never engages in proprietary trading.
Conclusion
Forex.com is one of the leaders in the world of forex trading. In addition to currencies, Forex.com offers trading for popular commodities, cryptocurrencies, and indices.
Forex.com is regulated in multiple jurisdictions to provide clients with peace of mind with their funds. For further peace of mind, Forex.com is a subsidiary of GAIN Capital, a large multinational company with a strong reputation which is listed on the New York Stock Exchange.
The broker offers its own proprietary trading platform for mobile and web trading which is well designed and has a myriad of options. It also has the option of using MetaTrader 4.
The site features a wealth of educational content, trading tools and other information to help get you up to speed an provide everything you need to make your trades.
As with any broker of this type, it's not for beginners as the risk of losing money quickly is very real. We recommend testing out the free demo account and reading all the material on the site before trading with real money.
Risk Warning: CFDs are complex instruments and come with a high risk of losing money rapidly due to leverage. 72% of retail investor accounts lose money when trading CFDs with this provider. You should consider whether you understand how CFDs work and whether you can afford to take the high risk of losing your money.
12,878
Forex Trading Knowledge Questions and Answers
Forex Trading Knowledge Questions and Answers
What Is A Demo Account?
Demo accounts enable new investors to test their ideas and learn how to use trading technologies without risk. Users can use the demo account to trade with simulated money and see what their returns would be if they traded with real money. Demo accounts are often used in schools and universities to teach investing and compete in trading competitions.
Demo accounts are commonly used by stock traders, currency exchange traders, and commodities dealers, but not by long-term investors. A demo account is less effective since the longer it takes to produce earnings from an investment, the more time it takes away from compounding real money.
How Does A Demo Account Work?
Using demo accounts, investors can practice trading on a platform without putting their own money at risk. You will not be exposed to the dangers associated with live trading platforms on a demo account. As a result, you can learn how platforms work without putting your money at danger.
A demo account guarantees that you will not lose money, but it also guarantees that you will not make money. To reduce risk when trading on the real market, traders must learn discipline and establish techniques.
How to Open A Demo Account?
In general, opening a demo trading account is pretty simple. Choose a Broker – Most brokers provide demo trading interfaces to help you become acquainted with the features and create techniques. Choose which broker to use initially.
Registration is necessary, and you must provide your personal information. Name, address, and financial information will be requested. Your identification will almost certainly have to be validated as well.
Once you've decided on a broker, you can install MetaTrader4. Once you have decided on a broker, you will require a trading platform. MetaTrader 4 and MetaTrader 5 are the most popular trading platforms.
You will obtain login details after registering with a trading program. You will be able to open an account.
How Long Do Demo Accounts Last?
Traders can use a demo account to test out a program for up to three months before deciding whether to purchase the complete edition. The three-month term is basically offered to guarantee that the prospective buyer has enough information to make them desire to buy.
Why Is It Necessary to Open A Demo Account?
Traders can use a demo account to test out a program for up to three months before deciding whether to purchase the complete edition. The three-month term is basically offered to guarantee that the prospective buyer has enough information to make them desire to buy.
What Are Advantages of A Demo Accounts?
Demo accounts are an excellent method to learn about various trading tactics and software. Paper trading is a lot safer way for a beginner investor to make technical mistakes than real trading. Investors can benefit from the customised trading software provided by each firm.
A demo account lets you to test methods without risking any money, whether you are a novice or an experienced trader. Trading on a demo account allows the trader to test the approach before trading with real money.
Even though many traders begin with equities, commodities and Forex can be profitable. The same strategies, however, may not be applicable in all three asset groups. A demo account allows experienced traders to experiment with several asset classes.
The Differences Between Demo & Live Accounts
A forex demo account is distinct from a genuine account in that it is utilised as a training account for traders to practise trading without putting real money at risk. Real accounts, on the other hand, use actual money, and traders put their own money at risk. A demo account enables users to trade with fictitious money in order to imitate the earnings they would receive if they traded with real money. Demo accounts are often used in colleges and institutions to teach investing and compete in trading competitions.
However, studies have shown that even if a person has obtained extensive trading expertise through the use of virtual accounts, things may turn out differently when real money is involved. Because you are not putting anything at risk  is more accessible when dealing with virtual money than when trading with actual money.
Can I have Multiple Forex Demo Accounts?
You may be able to open up to five demo accounts depending on the broker. Some, however, provide up to 19 demo accounts. There is no way to predict how many demo accounts are available at any particular time. All brokers do not limit the number of demo accounts.
If your broker has a demo account limit, you can contact their customer service via email or live chat to request more demo accounts.
There are brokers who will only allow you to open one account of each type per email address.
As a result, you are not able to establish any additional accounts until you give them with another email address or open a new account. Traders do not benefit from this practise because it requires them to spend their resources on opening new accounts rather than allowing them to open as many as they like.
In most circumstances, you won't need more than five accounts, and depending on your plan, one may enough.
In any case, you should practise on a demo account until you are really proficient.
Is A Demo Trading Account Free?
Demo platforms are usually free. There is no risk of losing money because you will not be dealing with real money. As a result, there are no deposits, withdrawals, or training fees involved.
How to Choose Forex Accounts?
Different accounts have different settings. Before you open a trading account, you should answer the following questions:
How much money do you want to put down? You should keep in mind that trading with money you cannot afford to lose is not a good idea.
What is your level of risk tolerance? If you are a cautious trader, you can open a micro account and trade micro-lots. However, if you wish to trade more aggressively, you should open a regular account.
Do you require any specialised equipment? Many forex brokers provide their best trading tools to its professional clients, which may include cutting-edge news analysis or access to a diverse set of indicators.
Once you've determined what kind of trader you are, your trading objectives, and your risk tolerance, you'll be able to choose which account is best for you.
Can I Take Money Out of a Demo Account?
Unfortunately, the answer is no. Demo accounts are only for practise purposes. You do not deposit anything because the account is not funded with real money.
As a result, any profits you would have made would be ineligible for withdrawal.
AvaTrade introducing 3 new crypto pairs
AvaTrade introducing 3 new crypto pairs – updating 3 others
AvaTrade has yet again improved their cryptocurrency trading offering.
AvaTrade is introducing three new cryptocurrency pairs: NEOUSD, EOSUSD & MIOTAUSD in addition to the 15 crypto assets already on offer.
These new pairs have been available since July 1st, 2019 and provide an excellent opportunity to diversify your clients' portfolios and increase their exposure to this vibrant 24/7 market.
| | | | | |
| --- | --- | --- | --- | --- |
| Asset | Typical Spread | Leverage | Margin | Min Nominal Trade Size |
| NEOUSD | 1.5% Over-market | 2:01 | 50% | 10 |
| EOSUSD | 2% Over-market | 2:01 | 50% | 10 |
| MIOTAUSD | 1.5% Over-market | 2:01 | 50% | 10 |
To unify their cryptocurrency instrument labels, They are relabeling their existing Ethereum, Ripple & Litecoin instruments, by replacing the existing instruments with new USD labelled ones:
| | | |
| --- | --- | --- |
| Asset | Old Symbol | New Symbol |
| RIPPLE | XRP | XRPUSD |
| ETHEREUM | ETH | ETHUSD |
| LITECOIN | LTC_Mini | LTCUSD |
These new pairs have also been available since July 1st,
The trading conditions for each one is identical to those of the older respective assets they replace.
Effective immediately, new positions are only available on the new pairs.
Avatrade Clients will not be able to open new positions on the old assets, but those already open will remain unaffected until July 29th.
Existing positions on XRP, ETH and Litecoin-mini that remain open on July 29th will be automatically replaced with corresponding positions on the new pairs, , at the same opening price and at no cost to clients.
as any broker that values their clients would do , Avatrade makes sure that the clients will not be affected by the change.
Neteller Launches Cryptocurrency Exchange Service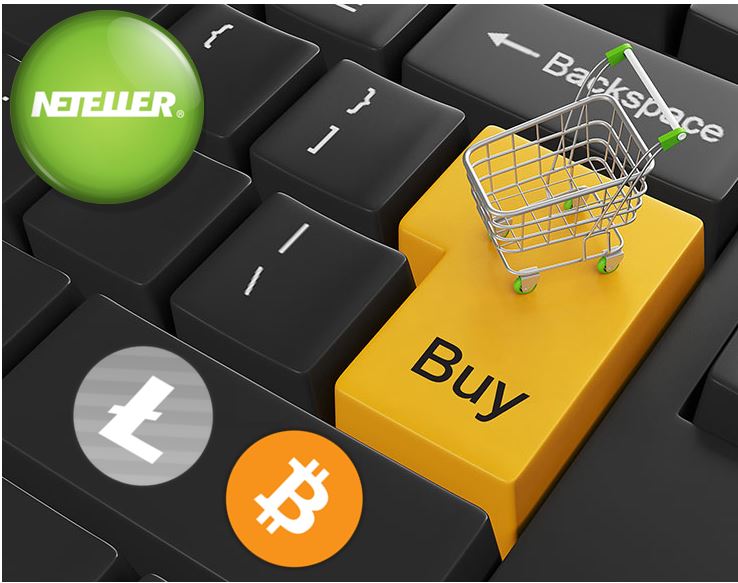 Neteller Launches Cryptocurrency Exchange Service
Neteller  one of the most known Digital fiat currency wallet provider , has started allowing its users to buy, sell, and hold cryptocurrencies including BTC, BCH, ETH, ETC, and LTC.
They do this on the large scale with a pilot in 10 countries and soon another 50 countries to join . They understand that if you do this effort it will only succeed if you can do this on a global scale.
Neteller and Cryptocurrencies
Neteller is a service which is operated by Paysafe Financial Services Ltd.,
founded in 1999, Paysafe Financial Services entered the market with the mission to provide an online alternative to the known traditional payment methods.
Most of the traders aiming us now neteller as one of the companies through which we made our deposits and if we had any profits also our withdrawals. A couple of years ago they left the Forex and Binary industry behind since the charge-back issue became just too expensive.
But as any companies knows, if you do not adept you die. The binary option market is all but dead and the Forex industry has moved also into the directions of the cryptocurrencies. thus, neteller understands that this is where the future is.
So Lasts week they announced that they are now offering a wallet with buy and sell cryptocurrency options.
As of today, Neteller users can buy, hold and sell cryptocurrencies via a recognized cryptocurrency exchange including bitcoin, bitcoin cash, ethereum, ethereum classic and litecoin, purchased using any one of 28 fiat currencies available in the Neteller wallet.
It may not seem so exciting but for many users that love this service it actually is. More and more currencies will be added making them an true exchange in the near future.
Now one is able to fund their neteller account through many different means (Mobile, Epay, Paysafecard, local bank deposits, and bitcoin)
We think that will make the threshold for many people, who would want to buy or sell cryptocurrencies, lower. This in return is a good thing for the overall acceptance of the cryptocurrencies in the mainstream of every day life.
Conditions for buying and selling cryptocurrencies through Neteller
The rates offered are somewhat in the lower middle of the current market making them go for the save route. The average market rates on the major cryptocurrency exchanges differ all in all not that much anyways, as this is not the main reason to choose to buy Bitcoin through Neteller
The minimum cryptocurrency purchase or sale amount is "approximately equal to 10 EUR," the firm clarified, adding that the maximum amount depends on the transaction limits associated with each account.
When You open an account with Neteller you have to choose your default currency. This is of course for most people in accordance on their geographical locations, people in Britain will go for the pound most Europeans go for the euro and pretty much the rest of the work goes for the US Dollar, thou other currencies are available
The fee is 1.5 percent for purchasing and selling cryptocurrencies from wallets with EUR or USD as the default currency.
The fee rises to 3 percent for wallets with other default currencies.
Neteller  | Why is this a good move for neteller and one that we should expect from other online Payment providers as well ?
At this moment till last week Neteller users can pay, get paid on thousands of sites, and send money around the world through their system.
The company claims to have "millions of point-of-sale, ATM and online locations" for users to withdraw or spend their cash.
Last July 25, Paysafe ( which as you remember is the company that owns Neteller

and Skrill)  announced that another digital wallet provider in its group, Skrill ( formerly known as moneybookers), started allowing customers to "instantly buy and sell cryptocurrencies, including bitcoin, bitcoin cash, ether and litecoin, using any one of the 40+ fiat currencies available in the Skrill wallet."
We could now see that this was like their test run on this concept.
We do not know the numbers that Skrill produced since they offered this service but it must have been encouraging enough for Paysafe to include their flagship brand in this endevour.
We will see where this leads but we are hopeful that this is the next step in global acceptance to the cryptocurrency revolution. Let me know what you think