Plus500 Review 2020 – Is This Broker LEGIT?
To address this question I will explain two different perspectives about how safe it is to trade CFDs through Plus500. First, we will approach the matter of safety from the perspective of how safe your investment is.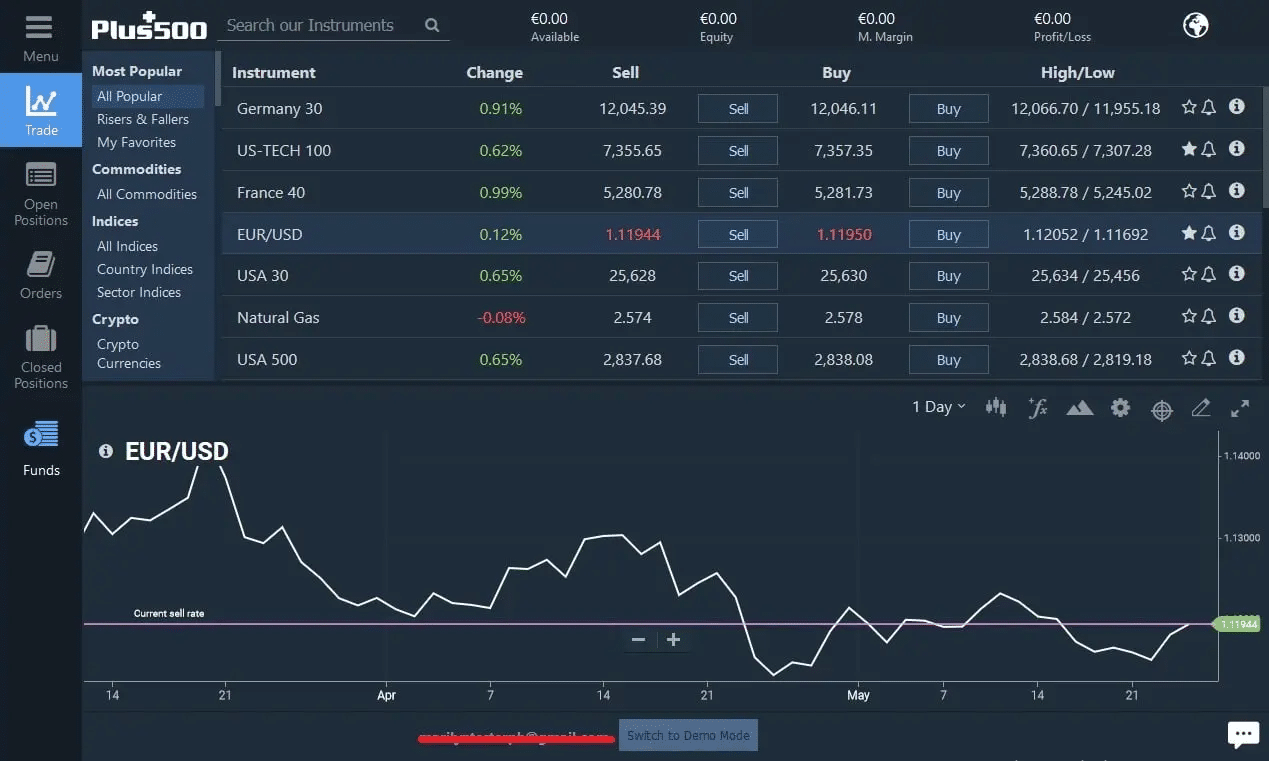 Is Plus500 Safe?
To address this question I will explain two different perspectives about how safe it is to trade CFDs through Plus500.
How safe is it to trade CFDs?
First, we will approach the matter of safety from the perspective of how safe your investment is.
According to the Financial Conduct Authority (FCA), the UK's financial regulatory body, and the European Securities and Markets Authority (ESMA),  investors who trade CFDs are exposed to a high risk, as trading CFDs involves taking very short-term positions – usually overnight – in highly volatile financial instruments.
In fact, research shows that more than 80.5% of investors who trade CFDs through Plus500 lose money when trading as the high costs associated with these transactions, the amount of leverage used, and the inherent volatility of the markets tends to evaporate their account balances.
In March 2019, ESMA decided to renew a restriction that forbids the marketing, distribution, and sale of CFD products to retail clients in Europe for a period of three months starting on May 1, 2019.
These restrictions included a limit on the degree of leverage that a client could take on various types of CFDs, the minimum required margin that would trigger a margin call, and a restriction on the incentives offered to trade CFDs.
Additionally, the institution enforced the publication of risk warnings that seek to inform investors about the potential of losing money when trading.
Therefore, before you trade CFDs with this provider, you should make sure you understand CFDs.
Furthermore, investors are also advised to invest money they can afford, as the money will be exposed to high risk, either entirely or partially.
How safe it is to trade with Plus500?
Now that we have covered the matter of how safe are CFDs, we can now move forward to review how safe Plus500 is as a trading platform.
Overall, Plus500 is considered to be a safe broker due to the fact that it is regulated by various top-tier financial authorities including the Financial Conduct Authority (FCA) in the United Kingdom (traders are protected under the Financial Services Compensation Scheme (FSCS)),the Monetary Authority of Singapore (MAS), and the Australian Securities and Investment Commission (ASIC). Plus500CY Ltd is authorized & regulated by CySEC (#250/14). You can check out our guide if you are looking for the best broker in Australia. We also ranked the best forex brokers in Australia.
Additionally, Plus500 is a publicly-traded firm listed at the London Stock Exchange (LSE) which adds a significant degree of transparency to its operations, especially when it comes to the company's solvency and liquidity, which is crucial to protect the money it holds for its investors.
The fact that Plus500 is regulated by different institutions around the world lowers the risk of relying on this broker to make trades, as these regulatory bodies promote transparency and a certain degree of reliability to the company's operations.
That said, a large percentage of Plus500 accounts lose money due to the inherent risks associated with CFDs and these regulators do not provide any cushion to traders who lose money when trading these financial instruments.
Finally, Plus500 has a Trustpilot score of 4.
| | | | |
| --- | --- | --- | --- |
| | Balance Protection Amount | | |
| | | Regulated by the Financial Conduct Authority (FRN 509909) | |
| South Africa, New Zealand and South Africa | | ASIC (AFSL #417727), Financial Markets Authority (FSP #486026), and FSCA (FSP #47546) | |
| EU, Norway, Switzerland (EEA) | | Cyprus Securities and Exchange Commission (#250/14) | |
| | | Israel Securities Authority (#515233914) | |
| | | Monetary Authority of Singapore (#CMS100648-1) and the IE Singapore (#PLUS/CBL/2018) | |
The Advantages and Disadvantages of a Forex Demo Account
The Advantages and Disadvantages of a Forex Demo Account
Creating a demo account with a forex broker is free,
and you will be able to trade with virtual funds without risking any money. The advantage of a demo account is that you can learn the basics before making a real money trade. Typically, a broker will have two versions: a desktop version and a mobile version. The desktop version is easier to navigate and will typically offer all of the same functions as the mobile app. A trading terminal that can be accessed via a web browser is compatible with most operating systems and browsers.
If you are new to the market, a forex demo account will give you the opportunity to try out trading strategies before committing to real-money investments. After you have gained some experience with the demo account, you should aim to move to a live account and apply the strategies you've developed there. Make sure you set short-term goals and stick to them if you want to make money from the forex market. Remember that practice makes perfect!
While a forex demo account is free, it's not a good idea to invest your own money in it. There are too many risks, and you might end up losing your entire investment. You need to know that there is no "get-rich-quick" scheme in the forex market. You can use a demo account to test out different strategies before investing real money. And if you do not want to lose money, you can always open another one until your virtual funds are exhausted. This is the safest and most realistic way to learn the market and become a successful forex trader.
A forex demo account is ideal for a beginner to learn new strategies and habits. Once you learn to use a forex trading platform, you can test out your strategies and create your own trading strategy. You can even practice using fake money. You can even make trades with this virtual money. And when you learn to control your emotions, you'll have more confidence in making the right moves in the market. Then, you can move on to a real account.
A forex demo account is an excellent way to gain confidence in your trading skills.
Since it's a virtual account, you'll be able to trade without any risk. It's also important to practice market entry and exit. In a real-world situation, you may need to exit a trade and re-invest to make a profit. A forex demo account is a great way to practice risk management in the forex market.
A forex demo account will help you decide if you'd like to trade currency.
There's no need to worry about making the wrong decision, as you can use the demo account to test your strategy. You can always come back to the real-world version later. Once you've decided, you can proceed to live trading. You can also practice your skills on your live trading account to learn the ins and outs of forex.
A forex demo account allows you to test out a broker's services and trading strategies without any risk.
In addition to allowing you to test trading strategies, a demo account also lets you evaluate broker services. It is an excellent way to learn about a new broker and develop your own personal trading style. Once you've chosen a broker, you can start practicing in the real market. You'll be glad you did! You'll be surprised at the number of benefits that a forex demo account has to offer.
While a forex demo account can be a valuable tool for learning new trading strategies, it should also be used for practice. In addition to testing new techniques and strategies, a demo account should also enable you to brush up on your trading skills. While a demo account can be a helpful tool for developing your trading style, it should never be your primary source of income. In fact, a forex demo can be a great source of profits and knowledge.
Using a demo account is beneficial for a number of reasons. It gives you a chance to experiment with the different strategies and learn the differences between them. By utilizing a demo, you can get a feel for what works and what doesn't. Often, a trading simulator is a great way to gauge your skills. The more experience you have, the better you'll become at trading. It's a great way to develop your forex skills.
Trade Forex & Cryptocurrencies through CMSTrader.

Trade Forex & Cryptocurrencies through CMSTrader.

The first crypto currency, called Bit-Gold, was created by Nick Szabo; and it was designed and based on an encrypted algorithm that draws its value from the numbers of transactions made on the asset.
That currency was not used or traded enough so it disappeared for a while – until on 2009, Satoshi Nakamoto, a computer programmer's pseudonym, designed a better algorithm that draws the value from the entire cryptocurrency system collectively, making it an all-around secure asset.
Meaning, to hack the new algorithm, you would need to hack every server that contains the cryptocurrency around the world, which is virtually impossible. This has made Nakamoto's asset safer than money in the bank- he called it Bitcoin.
Today, there are more than some 1000 different cryptocurrencies and the block chain technology that they are based on is being implemented in almost every bank around the world!
The idea behind cryptocurrencies is to put the power back in the public hands and loosen the banks' grip on the financial world.
This of course makes the banks less then happy and governments around the world that are aware that they loose the hold on their financial control of their citizens are trying to implement creative ways to stop them.
But, even thou they keep on spreading news to undermine this development the idea spread like wildfire and some of the currencies jumped from few cents to thousands of dollars.
As cryptos are becoming slowly more mainstream the days of making a killing in just a few weeks are pretty well gone, but for those that rode that wave made enormous amounts of money and a ridiculous return of investment.
The moment this took of the cryptocurrency News site, and cryptocurrency exchange providers were popping up as mushrooms.
It seems as if this is the future and it is already here. 
How do we know there is not a Cryptocurrency Bubble and everything will come crashing down ?
As you read before, the bitcoin is celebrating 10 years anniversary soon; and just in the last 10 months alone, more than 680 new cryptocurrencies based on the same technology were created.
Think about this , this is a huge amount of companies, developers applications and possibilities.
Add to that the fact that China is banning all cryptocurrencies from the country to keep control in the banks hands by what the finance world is calling "the purge" before the new Chinese crypto's birth.
Long story short, now is the time and way to take control back from the banks and make money without anyone putting his hand in your pocket.
Trade Crypto currencies
You are able to trade a number of cryptocurrencies as you were and are able to trade regular currencies like the Us Dollar or the Euro. Those forex brokers that understood that there would be an interest in trading these cryptocurrencies entered this arena with their experience and knowledge and strted to provide this cryptocurrency trading experience to their clients.
One such Broker is CMSTrader 
Trade Forex & Cryptocurrencies through CMSTrader.
Currency trading and learning Forex with CMSTrader
CMStrader has a full service demo account where you are able to practice and get to know their system .
we advice you to use it s it will show you everything you need to know about this broker.
the fact that they offer one of the best trading signals services in the industry is for new traders a bonus ., these signals in general are not for the demo account but you have a few signals that you can use there , this will also allow you to test these.
The Forex currency trading market is the largest financial market in the world, with trading volume up to 3.5 trillion dollars daily, covering the risks .
With CMSTrader, all traders with low, medium and large capital can participate and learn Forex in order to become better equipped to handle this massive online market that no one can control the prices or trading of, as seen in local markets. The only way to win in the Forex market is to play it intelligently.
Simply put, this is the global market used to earn profits and take control over one's own financial situation without a boss telling them what to do, and due to their devotion to your best interests, risks do not stand a chance.
Now I do not think it is wise to take out your pension and start trading without you knowing what you are doing , like anything else you need to educate yourself. This broker offers the tools and support to do just that. At the same time they are in the market famous for their trading signals.
These Trading signals are suggesting you when to trade, what to trade when to get in and when to get out.
Which, believe me can be very helpful if you just enter this industry.
So, let me give you a rundown of the services they offer
Advantages of trading with CMSTrader: 
More than 132 currency pairs ( focus only on a few and know them well but you have here enough choice )
You can execute deals with a single click in real time trading. (This saves time and makes it easy)
Narrow points difference (fixed-variable-ICN), and competitive prices without commissions or hidden fees. (What you see is what you get, makes them trustworthy)
Direct contact with a room
The opportunity to change your fortune by earning profit 400 times the value of your account (1:400 leverage).
Cash flow, execution with a single click, and flow up to a maximum of $ 20 million per deal.
Daily news and information about the market.
Access to Forex education resources, get a personal assistant who helps you with learning about the industry
In short this is a broker that will guide you into the industry and if you are already trading they will help you get more out of your activity.
Trade Crypto currencies through CMSTrader
FX Broker ActivTrades Wins the "Le Fonti Forex Broker of the Year Award"
Leading Broker ActivTrades Wins Le Fonti Forex Broker of the Year Award for the Second Time
, one of the world's leading online Forex Brokers, has won the Le Fonti Forex Broker of the Year Award for the second year running.
ActivTrades was awarded at the Le Fonti Awards (Photo: Business Wire)
A UK-regulated firm with offices in Europe and the Middle East, ActivTrades was selected as the winner by the editorial staff of over 120 journalists at Le Fonti, the international and independent media company and research center.
Le Fonti credited the broker for "aiming to maximize its clients' trading through a unique mix of superior value proposition, diverse product offering and stellar customer service". Le Fonti's judges added that ActivTrades offers "some of the tightest spreads in the industry" and a "wide range of professional webinars
ActivTrades specializes in providing industry-leading trading services in Forex and Contracts for Difference.
As part of the company's ongoing commitment to protect its global customer base, ActivTrades doubled its client insurance in September to £1 million, at no additional cost to the customer. This upgraded protection provides further assurances to clients with significantly larger investments.
Ricardo Evangelista, International Desk Manager at ActivTrades, said, "Our corporate values center on the needs of our clients and it is hugely satisfying to have our efforts recognized for the second year running
"In times of rapid industry changes, we pride ourselves on going the extra mile for our clients. Our global customer base of over 50,000 is increasing year-on-year and in the third quarter of 2017 we recorded nearly 20,000 active traders. This is a testament to our ability to meet the market's expectations as well as our ongoing commitment to expand and add value to our services
A highly anticipated celebration uniting the world's leading corporate stars, the Le Fonti Awards recognizes industry leaders in fields such as finance, banking, business, and insurance.
ABOUT ACTIVTRADES
ActivTrades is a leading independent broker providing online trading services in Forex, Contracts for Difference (CFDs) and Spread Betting, operating since 2001. From its headquarters in London and its offices in Milan, Sofia and Dubai, ActivTrades serves an expansive global clientele who, over the years, have come to value its continuous innovation, excellent trading environment and effective risk management.
ActivTrades' award-winning customer service is available 24 hours a day, Sunday evening through to Friday, and assists clients in 14 languages via phone, email and live chat.
A number of globally recognized awards have confirmed ActivTrades' high standards over the years in areas like customer service, client protection and trading execution. The firm was also included in the Sunday Times Profit Track 100 list in 2017 for its large profit growth.
All leveraged products carry a high degree of risk to your capital and are not suitable for all investors.
ActivTrades PLC is authorized and regulated by the Financial Conduct Authority, registration number 434413.
The ActivTrades Excess of FSCS Insurance is subject to the Terms and Conditions of the policy wording; eligibility to the Financial Services Compensation Scheme depends on the nature and status of the claim.
View source version on businesswire.com: http://www.businesswire.com/news/home/20171120005576/en/