Plus500 Review 2020 – Is This Broker LEGIT?
To address this question I will explain two different perspectives about how safe it is to trade CFDs through Plus500. First, we will approach the matter of safety from the perspective of how safe your investment is.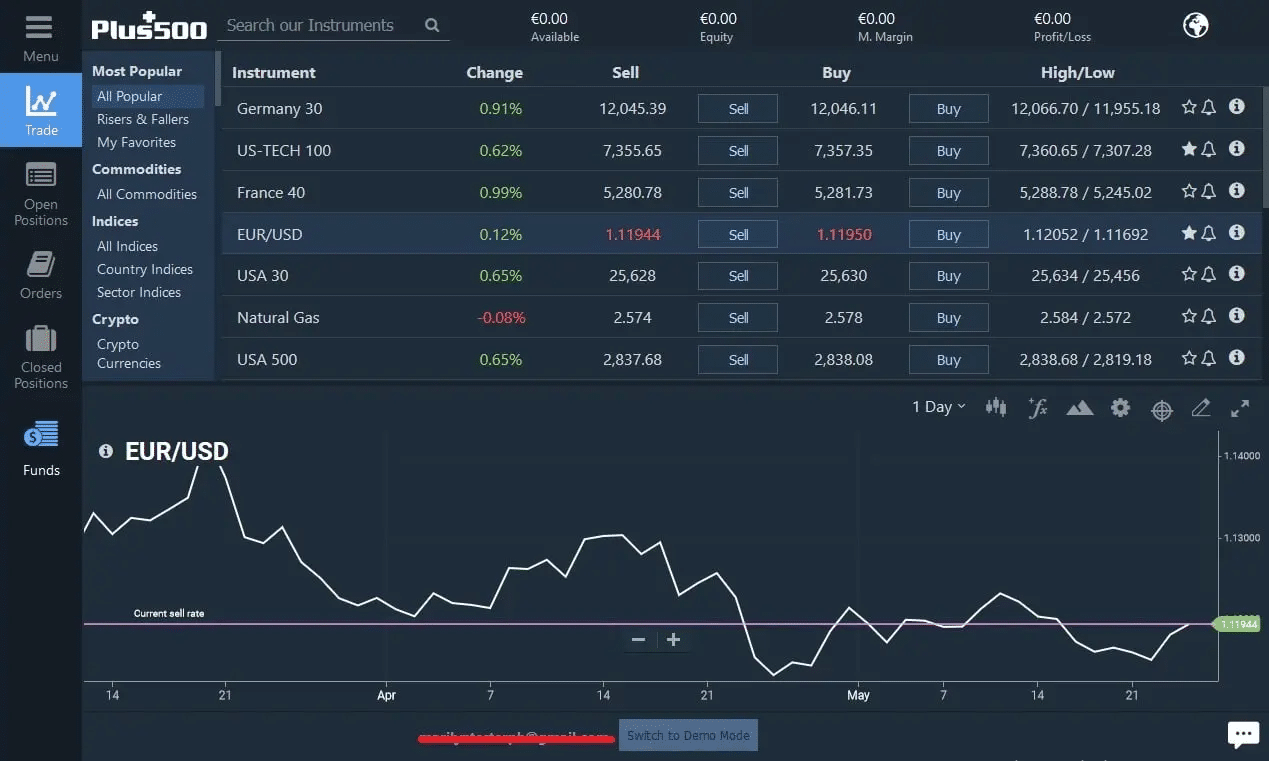 Is Plus500 Safe?
To address this question I will explain two different perspectives about how safe it is to trade CFDs through Plus500.
How safe is it to trade CFDs?
First, we will approach the matter of safety from the perspective of how safe your investment is.
According to the Financial Conduct Authority (FCA), the UK's financial regulatory body, and the European Securities and Markets Authority (ESMA),  investors who trade CFDs are exposed to a high risk, as trading CFDs involves taking very short-term positions – usually overnight – in highly volatile financial instruments.
In fact, research shows that more than 80.5% of investors who trade CFDs through Plus500 lose money when trading as the high costs associated with these transactions, the amount of leverage used, and the inherent volatility of the markets tends to evaporate their account balances.
In March 2019, ESMA decided to renew a restriction that forbids the marketing, distribution, and sale of CFD products to retail clients in Europe for a period of three months starting on May 1, 2019.
These restrictions included a limit on the degree of leverage that a client could take on various types of CFDs, the minimum required margin that would trigger a margin call, and a restriction on the incentives offered to trade CFDs.
Additionally, the institution enforced the publication of risk warnings that seek to inform investors about the potential of losing money when trading.
Therefore, before you trade CFDs with this provider, you should make sure you understand CFDs.
Furthermore, investors are also advised to invest money they can afford, as the money will be exposed to high risk, either entirely or partially.
How safe it is to trade with Plus500?
Now that we have covered the matter of how safe are CFDs, we can now move forward to review how safe Plus500 is as a trading platform.
Overall, Plus500 is considered to be a safe broker due to the fact that it is regulated by various top-tier financial authorities including the Financial Conduct Authority (FCA) in the United Kingdom (traders are protected under the Financial Services Compensation Scheme (FSCS)),the Monetary Authority of Singapore (MAS), and the Australian Securities and Investment Commission (ASIC). Plus500CY Ltd is authorized & regulated by CySEC (#250/14). You can check out our guide if you are looking for the best broker in Australia. We also ranked the best forex brokers in Australia.
Additionally, Plus500 is a publicly-traded firm listed at the London Stock Exchange (LSE) which adds a significant degree of transparency to its operations, especially when it comes to the company's solvency and liquidity, which is crucial to protect the money it holds for its investors.
The fact that Plus500 is regulated by different institutions around the world lowers the risk of relying on this broker to make trades, as these regulatory bodies promote transparency and a certain degree of reliability to the company's operations.
That said, a large percentage of Plus500 accounts lose money due to the inherent risks associated with CFDs and these regulators do not provide any cushion to traders who lose money when trading these financial instruments.
Finally, Plus500 has a Trustpilot score of 4.
| | | | |
| --- | --- | --- | --- |
| | Balance Protection Amount | | |
| | | Regulated by the Financial Conduct Authority (FRN 509909) | |
| South Africa, New Zealand and South Africa | | ASIC (AFSL #417727), Financial Markets Authority (FSP #486026), and FSCA (FSP #47546) | |
| EU, Norway, Switzerland (EEA) | | Cyprus Securities and Exchange Commission (#250/14) | |
| | | Israel Securities Authority (#515233914) | |
| | | Monetary Authority of Singapore (#CMS100648-1) and the IE Singapore (#PLUS/CBL/2018) | |
3 ways to profit in the 'year of the dollar'
In December, the Federal Reserve raised loan fees for the second time since the Great Recession and included the desire of a 2017 financing cost climb to its gauge. Furthermore, only a couple days prior, the abundantly anticipated minutes from the most recent Fed meeting demonstrated the most hawkish tone from the national bank in two years.
In the meantime, Europe has been dove into political turmoil after a year ago's Brexit vote and the later abdication of Italy's leader. Somewhere else, the Bank of Japan proceeds down the way of negative rates and forceful security purchasing.
Put it all together, and it isn't astounding that the U.S. Dollar Index is up against 14-year highs.
Speculators may have missed so much discussion on account of babble about the Dow Jones Industrial Average at the end of the day almost hitting 20,000. Be that as it may, paying little respect to your assignment to stocks or your venture skyline, this sort of huge picture incline in the dollar implies right now is an ideal opportunity to position your portfolio to benefit and, maybe most critical, to keep away from a portion of the pitfalls that can originate from a solid local cash.
Here are a couple ideas dollar exchanges ought to consider:
Residential plays over multinationals
There's a considerable measure of seek after shopper stocks in 2017 on account of an enhancing work market and any desires for a jolt under a GOP-controlled Congress and President Donald Trump. In any case, remember that not all retailers are made equivalent especially those with abroad operations that are adversely affected by the wide dissimilarity in monetary standards at this moment.
For example, retailer Wal-Mart Stores Inc.(WMT) said troublesome money trade rates shaved very nearly 2.5% off profit for each partake in the second quarter of 2016. On the other hand consider that in the monetary final quarter of 2016, athletic attire goliath Nike Inc.(NKE) saw its income development cut down the middle because of forex weights, from 12% year-over-year in consistent cash measures to only 6% including real money changes.
To take advantage of the "reflation" exchange that numerous financial specialists are counts on in 2017, you need to represent the headwinds that a solid dollar are making for multinationals at this moment. The most ideal approach to do that is to consider customer plays that do by far most of their business here in the U.S. – for example, Foot Locker Inc.(FL), which has been an uncommon splendid spot in retail throughout the most recent couple of years.
Supported money ETFs
Obviously, in the event that you need a steady portfolio, you can't just purchase just local centered values. Geographic expansion is similarly as imperative as enhancement crosswise over parts and resource classes. Such a large number of financial specialists keep on holding worldwide plays in light of a legitimate concern for a balanced portfolio, regardless of the possibility that it implies battling a daunting struggle as a result of a solid dollar.
The uplifting news, notwithstanding, is that you don't need to leave yourself to torment through a solid dollar and a powerless euro when you put resources into Europe. Nor do you need to stress over the yen-dollar conversion standard when you put resources into Japan. That is on account of there's an entire group of cash supported ETFs to permit financial specialists to put their cash in outside business sectors yet keep away from forex issues.
Consider that Japan's Nikkei 225 file is up around 25% from its July 2016 lows. The WisdomTree Japan Hedged Equity Fund(DXJ) is up 35% in a similar period on account of assurance from forex issues and a somewhat better-performing rundown of stocks – while the non-supported iShares MSCI Japan ETF(EWJ) is up only 10% in a similar period because of battling a difficult task against a solid dollar.
In the event that you need to differentiate your portfolio comprehensively, you ought to consider supported assets that incorporate the Japan-centered DXJ, the WisdomTree Europe Hedged Equity Fund(HEDJ) to play Europe or the iShares money Hedged MSCI EAFE ETF (HEFA) for developing markets.
Dollar list ETF
In the event that you are searching for an immediate play on a rising dollar as opposed to putting resources into stocks, figuring out how to exchange remote trade can appear like an overwhelming undertaking. Gratefully, there's the PowerShares DB US Dollar Index Bullish Fund(UUP).
This ETF is attached to the U.S. Dollar Index, which is a measure of the greenback against a wicker container of other worldwide monetary standards including the yen and the euro. It's a straight money play, however that doesn't make it straightforward or hazard free. In the event that the dollar debilitates, you'll lose cash similarly as though you're putting resources into a stock that has fallen on difficult circumstances. Furthermore, obviously, PowerShares takes a little cut of your speculations en route that indicates 0.8% yearly, or $80 a year on each $10,000 contributed.
Still, in the event that you need to conjecture on the dollar or support against a solid U.S. cash keeping down other worldwide ventures on your rundown, it's maybe the least demanding approach to do as such for generally financial specialists.
Vanguard Overtakes PIMCO in Bond ETF World
Vanguard Overtakes PIMCO in Bond ETF World
After leading the bond market for the past several years, PIMCO finally lost its position as the world's largest bond mutual fund provider to Vanguard. This is primarily thanks to the departure of Bill Gross last year that led to massive outflows from PIMCO funds.
According to the reports, investors shed $5.6 billion from the PIMCO Total Return ETF (NYSEARCA:BOND) in April, following $7.3 billion in March and $8.6 billion in February. The withdrawals pulled down the total AUM to $110.4 billion at the end of April. This is much below the Vanguard Total Bond Market ETF (NYSEARCA:BND), which had total AUM of $117.3 billion as of April 30. In fact, the ultra-popular PIMCO Total Return ETF now has just nearly $2.7 billion in AUM.
Beyond PIMCO's downfall, the success of Vanguard could be traced to its low-cost products and commission-free trades. The expense ratio of Vanguard products is 76% less than the industry average. Further, the growing appeal of the passively managed fund that tracks the indices or other benchmarks has helped Vanguard to become the largest mutual bond fund provider in the world. Earlier in the year, Vanguard overtook Boston-based State Street Global Advisors to become the second-largest ETF sponsor.
That being said, we have taken a closer look at some of Vanguard's largest bond funds for investors seeking to take advantage of the index-based strategy. Investors should note that about one-fourth of Vanguard's total asset base came from the ultra-popular Vanguard Total Bond Market ETF, followed by $15.9 billion in the Vanguard Short-Term Bond ETF(NYSEARCA:BSV) and $9.9 billion in the Vanguard Short-Term Corporate Bond Index ETF (NASDAQ:VCSH).
BND in Focus
This fund provides exposure to various corners of the bond market by tracking the Barclays Capital U.S. Aggregate Float Adjusted Index. It holds a large basket of 7,477 securities with effective maturity of 7.80 years and average duration of 5.60 years. From a bond type look, federal debt accounts for about 47% of the portfolio, while corporates and collateralized securities account for the rest (see: all the Total Bond market ETFs here)
How to choose your Forex Broker
As if there wasn't already enough to learn when trading forex, the forex broker you choose is actually the biggest trade you'll ever make. You're giving all your trading capital to that company, with the expectation that you'll be able to trade with it and withdraw it when it's time to take your profits.
You may have great forex strategies, but if your broker runs off with your money, all your hard work and research was for nothing. Follow these five in-depth tips on how to find a great forex broker, so you end up with the right broker that meets your needs, without exposing you to any scams.
Before looking at brokers, assess your own needs. Here are some things to consider:
Are you going to day trade a lot or a little?
Trade very small moves, or capture bigger moves?
If you day trade a whole lot and catch small moves, consider an ECN broker. You'll pay a commission on trades but the spreads are much tighter, which matters when trading small moves. Search only for "ECN Forex Brokers."
If you don't think you'll need an ECN broker, then you still have a big pool of potential brokers left like Galore pro.
If you're going to do "scalp" trading, you will need an ECN broker.
How much capital do you have? With a small amount of capital, you have to trade micro-lots. If you have over $5,000 you can start day trading mini lots. Don't open a standard lot account unless you have at least $50,000.
Choose a broker and account type (lot size) that matches your capital.
When it comes to depositing and withdrawing funds from your account, different brokers offer various methods. Select a broker that aligns together with your needs
What the Broker Should Offer
Now that you know what you want, and have hopefully narrowed the list of potential brokers, look for the following in the agents you're still considering.
No "dealing desk." If you're a day trader you want to be interacting directly with the market, and not sending your order to a trading table which then initiates it in the market. That takes too much time, and often results in "re-quotes." This is when the price has changed since you placed your purchase, and the broker asks you if you wish to proceed. Because of the time delay, your trade opportunity is likely gone.
Make sure your broker is regulated in a country with a well established financial system. A brokerage regulated in Cyprus, for example, is better than no regulation, but you could still have problems. Pick brokers regulated by U.S., U.K., Canadian, Japanese, New Zealand or Australian authorities, as examples.
You're a day investor, so demand competitive spreads. For example, if day trading the EUR/USD during a major session expects the spread to be close to one pip (point in percentage) with a non-ECN accounts. Two pips are too high; eliminate that broker as an option. With an ECN account, the spread should be half a pip or less during major sessions.
Look for a broker that's available when you need them. Open a demo accounts with agents you are interested in, then send them lots of emails with questions. Monitor how fast and how thoroughly they respond. If the customer service isn't good, get rid of that broker from the set of your potentials.
Be Wary of "Losing Trader" Reviews
Part of your research in choosing a broker should be looking at written reviews of the broker as well as discussion forums.
Be wary of these though. Unless the information comes from a credible source, and most forums are not credible sources, you're likely to find fake evaluations, both positive and negative.
Most day traders will lose money, and since most investors can't admit that to themselves, they blame others when it happens to them. Just because someone complains about losing money doesn't make the broker they were using bad, even though the writer may blame the broker.
Look up what people are saying, but maintain objectivity. Lots of false information gets published with no credible reference.
Personally Test out the Broker
Your list of potential brokers ought to be smaller now. But with therefore much false info out there, don't make a decision yet. Instead, test out the brokers you are most interested in.
First, open up a demo account and take note of the trading conditions. Your orders should execute instantly. Spreads should be tight and the platform stable, not crashing all the time.
If the demo works well for several weeks, then open a live account, with a fraction of the capital you intend to deposit. For example, if you have $10,000 to deposit, start by only putting in $1,000.
Trade the live accounts with your partial deposit for at least two weeks. During this period, continue to test customer support, asking them queries and assessing how quickly they react.
Initiate a withdrawal for some of the funds in your account. Depending on your withdrawal method, this may cost you several dollars, but it's worth it to know whether withdrawals can be done easily.
If everything seems good after all this, you've done your due diligence. Deposit the rest of your capital and begin trading as usual.